After watching tape of Sunday's 21-13 win over the Minnesota Vikings, it was even clearer to Bears coach Marc Trestman that quality pass protection helped pave the way to the victory.
The Vikings entered Week 11 ranked third in the NFL with 30 sacks, but they were unable to pad that total even though the Bears started a different offensive line combination for the sixth straight game. It was the first time the Bears did not allow a sack since Oct. 10, 2013 in a win over the Giants.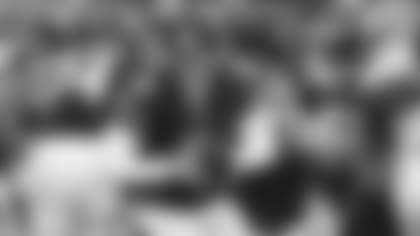 Jay Cutler was not sacked in a game for the first time this season in Sunday's win over the Vikings.
"We went to work to try to neutralize the pass rush and did that in various ways with our passing game and our ability to slam some runs in there," Trestman said. "The guys did a good job. Jay [Cutler] did a good job of managing the protection side of it as well, getting us into the right plays."

With Matt Slauson (chest) out for the season and Jordan Mills (ribs) unable to play, the Bears started veteran Brian de la Puente at left guard and rookie Michael Ola at right tackle.

Cutler completed 31 of 43 passes for 330 yards with three touchdowns, two interceptions and a 98.0 passer rating. The Bears quarterback made a handful of plays on the move in the pass game, either after escaping the pocket or on designed rollouts.

"We did get three or four plays out of some movement for us, and it did help neutralize some of the pass rush and give him a different passing spot," Trestman said.

Cutler would like the Bears to continue to incorporate plays to take advantage of his mobility.

"Yes, definitely," he said. "We got to move the pocket. We got to help the offensive line. We got to get some easy throws in the flat, get some stuff on the outside. It keeps teams off-balanced and makes us less predictable."

Asked how he'd assess Cutler's overall performance in Sunday's win, Trestman said: "I thought Jay continued to play hard throughout the game. He made plays, overcame things that he wanted to do better, just like our entire team. I was pleased the way the team played together, not just Jay, but in terms of just the way we played complementary football as a unit and stuck together."

During Monday's press conference, Trestman second-guessed his time management late in the first half. After the Bears took over at their own 26 with 1:05 left and one timeout remaining, he called back-to-back running plays.

Kyle Long gained 7 and 15 yards on the runs, advancing the ball to the Chicago 48. But by then there was only :15 left and Cutler was intercepted on a deep pass on the next play.

"When I looked back at it today, I thought I could've done a better job managing it," Trestman said. "Part of the process is trying to get them to eliminate their timeouts, so they don't have them if they get the ball, offensively speaking."

Trestman was pleased to get third receiver Marquess Wilson back on the field after the second-year pro missed the first nine games with a broken collarbone he sustained in training camp. Wilson caught two passes for 11 yards against the Vikings.

"We liked what we saw in his work ethic and to do it with just about 10 days back into it, it was a good light for us to see him," Trestman said. "Jay has got a lot of confidence in him in terms of his ability. We'll just keep working with him, keep trying to get him involved in what we're doing."