Football has been Skip Peete's family business nearly his entire life.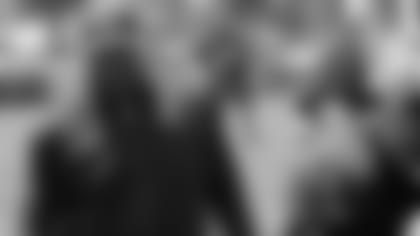 Football has been Skip Peete's family business nearly his entire life.
The Bears' first-year running backs coach is the son of longtime NFL and college coach Willie Peete and the brother of Rodney Peete, an NFL quarterback for 16 seasons from 1989-2004 with the Lions, Cowboys, Eagles, Redskins, Raiders and Panthers.
Skip is following in the footsteps of his father, who served as Bears running backs coach from 1995-97 before becoming one of the team's pro scouts in 1998.
Skip has spent the past 15 years as an NFL running backs coach with the Raiders (1998-2006)—where he worked with Bears' first-year head coach Marc Trestman—and Cowboys (2007-12).
During his tenure in Dallas, the Cowboys set a single-season franchise record in 2009 with a 4.8 yards per carry average and running back Felix Jones set a club mark by averaging 5.9 yards, tops in the NFL and the 10th highest average since the 1970 NFL/AFL merger.
In his first season with the Cowboys in 2007, Peete helped running back Marion Barber reach his first career Pro Bowl after rushing for a career-high 975 yards and 10 touchdowns.
With the Raiders, Peete helped Tyrone Wheatley and LaMont Jordan establish career highs in rushing with 1,046 yards in 2000 and 1,025 yards in 2005, respectively. Oakland led the NFL in rushing in 2000, averaging 154.4 yards per game, ninth best in franchise history.
In helping lead the Raiders to the Super Bowl in 2002, Charlie Garner had 91 receptions for 941 yards, the fifth and fourth most in NFL history among running backs, respectively.
Prior to entering the NFL, Peete spent 10 seasons in the college ranks. He began his career at the University of Pittsburgh as a graduate assistant in 1988 before coaching wide receivers for two seasons. He was the Panthers' running backs coach for his final two seasons at Pitt, coaching future NFL star Curtis Martin.
Peete went on to coach wide receivers at Michigan State (1993-94) and Rutgers (1995) before tutoring running backs at UCLA (1996-97).
As a player at the University of Kansas, Peete was an All-Big Eight receiver in 1985 and was voted team captain as a senior in 1986.