Bears defensive end Julius Peppers is nicknamed "The Freak" because of his extremely rare combination of size and athleticism. But that's not the only key to his success.
In presenting a Brian Piccolo Award to the 6-7, 287-pounder Tuesday at Halas Hall, Bears defensive line coach Mike Phair lauded Peppers' work ethic and attention to detail.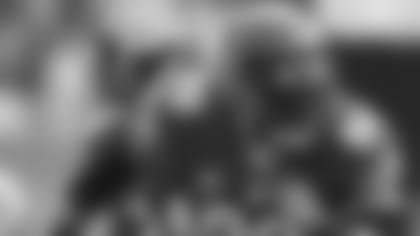 Julius Peppers' 111.5 sacks are the second most in the NFL since he entered the league in 2002.
"You see a guy that's one of the better football players that's ever played this game and each and every day in practice he's the first guy in line," Phair said.
"He works extremely hard and he's very coachable. In meetings, he's a guy that takes great notes. That's one of the things that you could take for granted: 'Hey, I'm a pro. I've been here. I know the system.' But he's taking notes like a rookie. That's very impressive."
Peppers' attention to detail stems from his desire to continually improve, something he's done throughout his career. Selected by the Carolina Panthers with the second pick in the 2002 draft, he has been voted to eight Pro Bowls, including three in as many years with the Bears.
"I always like to take notes because you never know it all," Peppers said. "Once you think you know it all, that's when you start falling off. It's always good to try to get a little better every day."
Remembering the draft: While acknowledging that it was "a long time ago," Peppers recalled the emotions he experienced the day he was drafted 11 years ago.
"It was a lot of nerves just waiting around to see where I was going to go," he said. "I had a pretty good idea where I was going to go. I didn't know for sure. A lot of anxiety, but excited. A lot of different emotions all at the same time, but I was all right."
Peppers was chosen by the Panthers after the expansion Houston Texans took quarterback David Carr. The Lions picked quarterback Joey Harrington third. The Bears chose offensive tackle Marc Colombo at No. 29, a year after they went 13-3 and won the NFC Central title.
More memories: Cornerback Charles Tillman, who also was presented with a Piccolo Award Tuesday, reminisced about being selected by the Bears in the second round of the 2003 draft (35th overall) out of Louisiana Lafayette.
"It was a great feeling because it just really meant that a lot of the hard work had paid off, yet it was just starting," said Tillman, who watched the draft at home with his family in Copperas Cove, Texas. "It was a very rewarding feeling to know that not going to those parties, not messing with the alcohol and things like that ... where you saw some of your teammates [go] down that path and they ended up flunking out or they just quit school.
"A few of us, we stayed on course with the path and look, I'm in my 11th year, so hard work really does pay off."
No Brian: Tillman will play for the first time without middle linebacker Brian Urlacher, who will not return to the Bears for a 13th season. The Bears announced March 20 that the two sides were unable to reach a contract agreement.
"He had a great career," Tillman said. "I wish he was here, but it's a cutthroat business. You saw Peyton Manning got cut. We didn't re-sign Brian. Ultimately, no one's safe on one team forever. I don't care how many Piccolo Awards you win, at the end of the day it's a business. It's cutthroat."