CLEVELAND – Senorise Perry was one of two players the Bears signed in May among a group of 38 prospects who participated in the team's rookie minicamp on a tryout basis.
An impressive outing in Thursday night's preseason finale in Cleveland could help the running back/return specialist buck the odds again this weekend when the 53-man roster is set.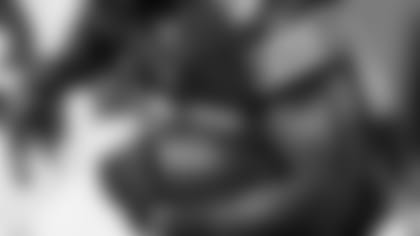 Senorise Perry has rushed for 45 yards and one touchdown on 11 carries in three preseason games.
"I hate to say how big, but it's certainly going to be an opportunity for him," said coach Marc Trestman. "He's flashed for us. He's had a couple of good games in the reps that he's had, both in the kicking game and running the football. He's going to get that chance again to run the football on Thursday night."
In three preseason games, Perry has rushed for 45 yards and one touchdown on 11 carries, caught four passes for 43 yards and returned two kickoffs for 27 and 24 yards.
Perry was a two-year starter at Louisville, where he rushed for 677 yards and six touchdowns on 141 carries last season as a senior. In 2012, he ran for 705 yards and 11 TDs on 136 attempts before suffering a torn ACL in the 10th game of the season.
In a 2012 win over Pittsburgh, Perry became the first Louisville running back to rush for four touchdowns in a game since former Bears back Michael Bush in 2005.
Perry's best chance to earn a roster spot with the Bears is seemingly on special teams.
"He's gotten better every game," said special teams coordinator Joe DeCamillis. "And I'm not just talking about as a returner. I'm talking about as a cover guy. He made a couple of plays [last Friday night against the Seahawks] where he was around the ball and forcing the ball, which is good."
Perry began his career at Louisville by playing in 10 games on special teams as a true freshman. As a sophomore, he averaged 26.2 yards on eight kickoff returns and blocked a punt versus Kentucky.
"I take a lot of pride in special teams in general and not just in returning," Perry said. "Once I get a chance to go out there and return a ball, it's just a great opportunity."
Perry is competing for the kickoff return job with veteran Micheal Spurlock and rookie Chris Williams. Spurlock has averaged 24.2 yards with three touchdowns on 107 kickoff returns in seven NFL seasons with the Cardinals, Buccaneers, 49ers, Chargers, Jaguars, Lions and Cowboys. Williams spent three seasons in the Canadian Football League, setting a CFL record with six kick return touchdowns in 2012.
Asked what he's looking for in a kick returner, DeCamillis said: "Good decisions, ball security and then you'd also like to see if they're going to hit it up in there because kickoff return is different from punt return. On punts, the field is a little bit more spread out and kickoff return that hole's not going to be open very long, so you've got to really hit it."