Unable to get back on the field for three full NFL seasons, it would have been easy for Bears tight end Zach Miller to end his once-promising career and find another line of work.
But Miller never gave up on his dream, not after spending the 2012 season on injured reserve with the Jaguars, failing to make the Buccaneers roster in 2013 and landing on injured reserve again with the Bears in 2014.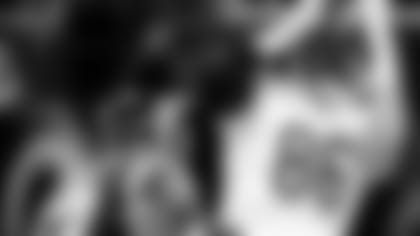 Tight end Zach Miller has scored three touchdowns in the last two games.
"I never thought it was over," Miller said. "I never did. I never wanted to give up, didn't believe it was over and I just wanted to go work through it and grind through it. I knew that if I could get back healthy, I knew I could produce."
Miller was correct. In the past two weeks he made a remarkable one-handed game-winning touchdown catch against the Chargers and then followed with two TD receptions, including an 87-yarder, in a rout of the Rams.
The success has been a long time coming for Miller, who played in 33 games with five starts with the Jaguars from 2009-11 before his career was derailed. But he's too busy preparing for the next opponent to do anything but just enjoy the ride.
"I'm having fun playing, but at this point you don't really have time to step back," Miller said. "Everybody knows the challenges I've had the last couple years, so I'm just enjoying my time right now."
Even during Miller's darkest days, he never considered ending his playing career.
"I'm a believer of never having a Plan B because if you have a Plan B, you're not focused on Plan A," Miller said. "That's kind of how I approached it. All the times I had to go through three season-ending injuries was get healthy, get back on the football field and take it from there."
Miller originally joined the Bears prior to the 2014 season. He caught six passes for 68 yards and two touchdowns in a preseason-opening win over the Eagles. But he sustained a season-ending foot injury a week later in a victory over the Jaguars.
Despite being placed on injured reserve, Miller remained invested in the offense.
"I was in the film room every morning, making cut-ups, helping any way I could," he said. "I'd come in, do my rehab and as soon as I was done I'd go be in the meeting room with the tight ends, go through install.
"When they went out on the practice field, I'd stay in, make cut-ups, do defensive rush studies and just put things together where it kept my mind sharp on football, and kind of help them a little bit, too, just give them little tidbits what I could see from the film."
Miller traveled a unique path to the NFL even before he was bitten by the injury bug. A quarterback at Nebraska-Omaha, he was immediately converted to tight end after being selected by the Jaguars in the sixth round of the 2009 draft. His only experience at his new position in college came in the Cactus Bowl, a Division II all-star game.
"I've always enjoyed going to Zach," said quarterback Jay Cutler. "He's one of those easy guys where you always know where he's going to be and he's a friendly target and he's a smart player. He used to be a quarterback, so he knows tempo things, knows when to gas it a little bit. I've never really second-guessed throwing him the ball."