MINNEAPOLIS — Adrian Peterson wasted little time making an impact Sunday at the Metrodome, gashing the Bears with a 51-yard run on the game's first play from scrimmage.
The NFL's leading rusher staked the Vikings to a 14-0 lead by amassing a franchise-record 104 yards and scoring two touchdowns on 12 carries in the first quarter.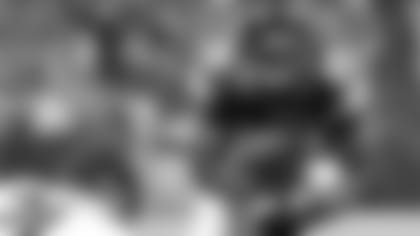 Adrian Peterson's two one-yard touchdown runs staked the Vikings to a 14-0 lead.
"Anything he does is not surprising," said cornerback Kelvin Hayden, who made his first start of the season in place of the injured Tim Jennings. "He's one of the top backs in the league. We can't shy away from that. He came out playing fast, playing hard.

"It looks like we weren't ready for it, but we were. We were ready. It was the first drive. So much football was played after that. I thought we did a pretty good job after that."

The Bears held Peterson to just 50 yards on 19 carries over the final three quarters, but by then it was too late. The Vikings superstar finished with 154 yards on 31 attempts.

"We played hard; [but] it was obviously not good enough," said Nick Roach, who started at middle linebacker in place of the injured Brian Urlacher. "You've got to give them credit for being able to run the ball like they did early and get up a little bit."

Aches and pains: Jay Cutler was among four Bears players to exit Sunday's loss with an injury. Cutler hurt his neck when he took a helmet-to-helmet shot midway through the fourth quarter from defensive end Everson Griffen, who drew a 15-yard penalty for unnecessary roughness.

Cutler remained in the game for the final nine plays of the drive before being replaced by backup Jason Campbell. Cutler later told reporters that his neck was "really stiff."

"It started stiffening up on me more and more as the game progressed," Cutler said. "I was getting some spasms on the left side. I'll just have to take it day-by-day."

Defensive end Shea McClellin (knee), safety Craig Steltz (chest) and cornerback Sherrick McManis (knee) also left with injuries. Kicker Robbie Gould strained his left calf during pre-game warm-ups. He kicked both Bears extra points but was replaced on kickoffs by Adam Podlesh.

"In the end [Gould's injury] didn't really affect us that much," said coach Lovie Smith. "We didn't have to kick a lot of long field goals or anything like that. But there is some concern."

Stepping in: Undrafted rookie James Brown saw his first significant action of the season, splitting reps with Edwin Williams at left guard. Brown was promoted from the practice squad Nov. 21.

"It felt pretty good for the most part, but with a loss and everything else it seems a lot worse," said Brown, who is learning to play guard after lining up at tackle in college at Troy.

"That's something I've been adjusting to, but wherever they need me to play, I'll do it. It's a way different experience than tackle. Everything happens a lot quicker."

News and notes: Matt Forte had his most productive game in five weeks, rushing for 85 yards on 13 carries including a 36-yarder. ... Vikings defensive end Jared Allen did not record a sack for the second time in as many games against the Bears this season. ... Podlesh placed four of six punts inside-the-20, forcing five fair catches. ... After scoring 74 points in back-to-back wins over the Panthers and Jaguars, the Bears have mustered 72 points in their last five games.