The following is the seventh of 10 stories featuring Bears coordinators and position coaches.
Mike Phair enters his third season as Bears defensive line coach, looking to generate similar results from a talented group that includes Pro Bowlers Julius Peppers and Henry Melton.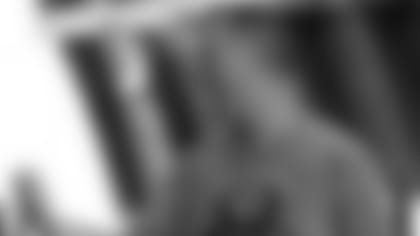 Mike Phair enters his third season as Bears defensive line coach.
"I feel very fortunate to be able to work with such special guys," Phair said. "And it's not just their talent but their mindset; they want to work to get better. They're obviously talented guys, but what I get excited about is they want to get better every time they come out to practice and do drills."
The defensive line produced 38 of the Bears' 41 sacks last season. In leading the team with 11.5 sacks, Peppers became the first Bears player to reach double digits in back-to-back seasons since Rosevelt Colvin in 2001-02. Peppers, who had 11 sacks in 2011, also became the team's first player with at least 11 sacks in consecutive years since Hall of Famer Richard Dent in 1986-87.
Phair helped Melton earn his first Pro Bowl nod last season as the Texas product recorded six sacks. He now has 15.5 sacks in his career. including 13 since 2011, the second most among NFL defensive tackles behind the Bengals' Geno Atkins and the most by a Bears defensive tackle in two seasons since Tommie Harris had 13 in 2006-07.
In Phair's first year with the Bears in 2011, the defensive line produced 30 of the team's 32 sacks, seventh most in the NFL by a defensive front and the third highest percentage by a line. Peppers' 11 sacks were the most by a Bears player since 2006.
Prior to joining the Bears, Phair spent six seasons with the Seahawks. He served as an area scout from 2005-07, including in 2005 when they reached the Super Bowl, before becoming a coach. Phair was an assistant linebackers coach in 2008, an assistant defensive line coach in 2009 and a defensive assistant in 2010.
Before being hired by the Seahawks, Phair spent three seasons in college scouting department of the Tampa Bay Buccaneers, including their Super Bowl championship season in 2002.
The time Phair spent working in personnel helped him become a better coach.
"The six years I was in scouting I got exposed to so many different things as far as styles of coaching, ways to practice and things you look for in players," Phair said. "It helped me with my coaching in terms of identifying certain traits that you look for in specific positions."
As a player, Phair was a two-year starting linebacker at Arizona State after beginning his career with the Sun Devils as a walk-on. He played two seasons at Mesa Community College, earning first-team all-conference honors in 1989.
Phair began his coaching career at Arizona State as a graduate assistant in 1999-2000 before moving on to Tiffin University in 2001, where he coached linebackers and special teams.
After spending part of his career in scouting, Phair is happy to be back in coaching.
"The thing I love about it and the reason I really wanted to get back into it is just to have an effect on people," he said. "That was my biggest reason; to have an impact on these guys."