The Bears have dropped three of their last four games, struggled mightily on defense, and lost Jay Cutler and Lance Briggs for an extended period of time with significant injuries.
But they don't intend to spend their bye week petitioning the NFL to end the season, not even with their next game looming against the NFC North-leading Packers Nov. 4 in Green Bay.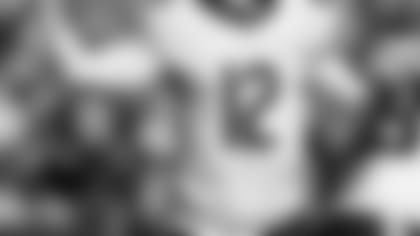 Josh McCown will replace Jay Cutler, who will miss at least four weeks with a torn groin muscle.
"I said from the beginning there would be dust on the highway to get where we want to go," said general manager Phil Emery. "Our goal is to be in the playoffs, to be in the championship hunt, to be in a position to win a Super Bowl.
"We've definitely got some dust on the car. We've got to clean it up. We've stepped in an oil patch or two. We've got to get that off our foot and move forward. I know this team. I trust this team and our coaches to work together in this organization, to work together to get better and get ready for this next game, our next opponent, the Green Bay Packers."
Based on what Emery has witnessed so far this season, he believes the Bears possess the character and resolve to overcome the adversity they're facing.
"I like this football team," Emery said. "We have struggled in every game to gain traction, but we've always battled back. We've always found a way to be in the mix of the win or the loss at the end of the game. I'm proud of them for it. They stick together.
"This is a team built with good character and leadership. They play together. They're accountable for one another, as our coaches are, and I'm proud of them for that reason."
The Bears (4-3) are tied with the Lions (4-3) for second place behind the Packers (4-2). On Sunday, Green Bay visits Minnesota (1-5), while Detroit hosts the Cowboys (4-3). Eight days later, the Bears will travel to Lambeau Field looking to snap a six-game skid against the Packers.
"We know it's going to be for a first-place position regardless of what happens this weekend, and our guys should be excited about that and I believe they will," said coach Marc Trestman.
"I believe they can rally around each other and embrace the opportunity to make this a very positive week in advance, amidst an environment in which people are going to think otherwise. I think our guys will come in here and be focused and ready to go."
In order to remain in playoff contention, the Bears must show marked improvement on defense. They're currently on pace to allow a franchise-record 471 points and have yielded seven touchdown drives of at least 80 yards in their last two games.
In falling to the Redskins 45-41 Sunday at FedEx Field, the Bears lost a game when scoring at least 38 points for the first time in their 94-year history.
"We know collectively we've got work to do," Trestman said. "It really comes down to fundamentals and techniques and an improvement in that area. Not an improvement in scheme, not an improvement of structure, just being in the right place at the right time and doing the right thing with the fundamentals that we've been taught."
The pass rush has been virtually non-existent, with the defensive line accounting for only four sacks in seven games. But the front four isn't the only part of the unit that has struggled.
"We've got to get better," Trestman said. "A lot of that's just alignments and assignments. Again, it's not relative to talent. It's just relative of everybody being in the right place at the right time.
"Sometimes it's pass-rush related. Other times it's alignment-related. Sometimes a guy gets beat man-to-man. Sometimes their eyes are in the backfield and because their eyes are in the backfield and not on the man in man-to-man coverage they've lost their man.
"These are things we've got to get better in and work at. We're not where we wanted to be. We're not even close. We're certainly not the defense we want to be, and our guys know that. [Defensive coordinator] Mel [Tucker] was very clear to them about what we have to do with the players we have to go in each week and give our football team a chance to win. When we come back on Monday, that's where we're going to start."