Bears president and CEO Ted Phillips discussed several team issues Thursday night during an appearance on the Bears All Access radio show on WSCR-AM 670.
Phillips revealed that he and chief contract negotiator Cliff Stein will speak to general manager Phil Emery and coach Marc Trestman about the NFL Combine likely early next week.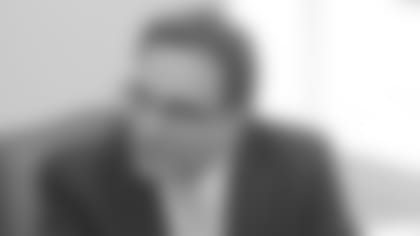 Ted Phillips
"We'll go through what they saw, what their priorities are," Phillips said. "I won't sit and listen to a complete rehash of every single interview they had, but I definitely want to understand where the priorities are; who rose, who fell in terms of guys that they would have their eye on in the draft. And obviously with free agency coming [March 11], we'll be talking about possible free agents as well along with our own players who are unsigned."
As is the case with virtually everyone who watched the Bears play in 2013, Phillips knows what aspect of the team needs most to be addressed in the offseason.
"Clearly when you just look at performance last year our defense didn't perform as well as we had hoped, so that definitely needs attention," Phillips said. "But you can never have enough depth on either side of the ball. What I like right now is after signing [center] Roberto Garza, we now have our entire starting offense from last year intact for 2014. So that is a great starting point for the offense and we'll go from there and see where we end up."
Phillips is confident that 2012 first-round draft pick Shea McClellin will make a successful transition from defensive end to linebacker.
"I'm not sure it's reinventing him," Phillips said. "I think what Phil and Marc and the other coaches have talked about has been, 'let's try to accentuate all of the positive attributes he has, take a look at what he did in college effectively and see if that makes him more of an impact player.'
"He showed flashes of that. He needs more consistency there. He definitely has the work ethic and the desire to try to make it happen. So I'm optimistic and so should our fans be."
Phillips feels the changes the Bears have made the last two offseasons—hiring a new general manager and head coach and renovating Halas Hall—have reinvigorated the franchise.
"There's kind of new energy level here both with our staff and our team," Phillips said. "It's really been exciting to be part of that. We've reinvested in our facilities. We've reinvested in technology. We're reinvesting in the team. I think everyone sees that and appreciates that.
"It's only going to make us better as an organization. I'm just really excited about the direction the team is headed in and I think everyone has been reenergized in this last year."