When running back Jordan Howard was presented with a hypothetical situation by a reporter at Bears rookie minicamp, the fifth-round pick answered without hesitation.
What would he do, Howard, was asked, if he found himself one-on-one with a linebacker in the hole?
"If it's short yards, I'm running straight through him," said the 6-foot, 230-pounder, providing an answer that no doubt will endear him to Bears fans far and wide.
Described by general manager Ryan Pace as a "downhill, physical north-south runner," Howard appears to be a perfect fit for a team that makes no secret of its desire to pound opponents on the ground.
"I'm very happy about that because I feel like you definitely need a strong run game to be successful in this league," Howard said. "Especially late in the season, cold weather, you're going to have to run the clock out and you won't be able to pass as well."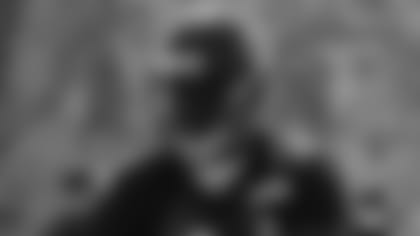 Bears running back Jordan Howard rushed for 1,213 yards and nine touchdowns on 196 carries last season at Indiana.


Last season at Indiana, Howard rushed for 1,213 yards and nine touchdowns on 196 carries despite missing four games with ankle and knee injuries. Maryland interim coach Mike Locksley described Howard as a "bruising-style runner" who combines "power and balance" and "runs with great leverage."
"I feel like I bring a lot of power, a lot of physicalness," Howard said. "I'm able to get those tough yards, squeeze through the tight holes and everything, and just bring a physical presence."
Howard played his first two collegiate seasons at Alabama-Birmingham in 2013-14 before transferring to Indiana after UAB disbanded its football program.
The Birmingham native made an immediate impact at Indiana, becoming the first FBS player in the last 20 years to rush for at least 140 yards in each of his first four games with a program, compiling 145, 159, 203 and 168 yards.
In back-to-back games late in the season, Howard rushed for 174 yards against Iowa and 238 yards versus Michigan, the second most ever by a Wolverines opponent. He believes his outing against Michigan really enhanced his status as an NFL prospect.
"It felt like it helped a lot because they were the [No. 3] rush defense coming into the game and they hadn't given up a 100-yard rusher," Howard said. "I just felt like we had a great team effort. Everybody worked together very well and we put everything together."
Howard will compete for playing time in the Bears backfield this summer with 2015 fourth-round Jeremy Langford and 2014 fourth-round selection Ka'Deem Carey, among others.
Coach John Fox believes in a backfield-by-committee approach—a strategy he employed successfully in previous stints with the Panthers and Broncos. Fox's teams have featured two rushers with at least 434 yards each of the last 11 seasons, including last year when Matt Forte gained 898 yards and Langford added 537.
"The biggest part is just kind of settling on two guys typically in the rotation, who they are, what their strengths and weaknesses are, and then situationally or it can be even just as far as whoever has got a hot hand as far as in the game or the course of a game," Fox said.
"I think it's hard to get through a season with just one back from a health standpoint when you've got 11 guys chasing him around trying to whack him."
From what he's seen of his new teammates, Howard feels that several Bears running backs all bring something a little different to the table.
"I think we complement each other very well," he said. "We all have different skill sets, and we can all work together to make this team a great team."