Bears players took to Twitter en masse following Monday night's 34-18 win in Dallas to thank their fans for the great support they received at Cowboys Stadium.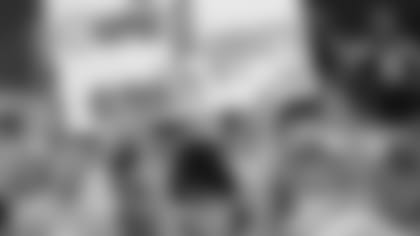 Bears fans turned out in huge numbers for Monday night's game at Cowboys Stadium.
Here are some of those tweets:

Brandon Marshall (@BMarshall): Big ups to all the Chicago fans in Dallas. Felt like a home game.

Lance Briggs (@55Berger): Great win Chicago. We were well represented in the big D.

Charles Tillman (@peanuttillman): Cowboys Stadium felt like Soldier Field with all the Bear fans. Thanks for traveling to Dallas and showing us some love. Bear Down!!!

Chris Conte (@ChrisConte47): Thank you everyone who showed up in Dallas! Haven't seen so many Bears fans at an away game like that!

Tim Jennings (@HennorJenn26): Big shout out to our fans!!! You guys were deep in Dallaas tonight!! Love the support thru good and bad.

Matt Toeaina (@JimmyFlySnuka75): Go Bears! Great win for a great fan base! Sounded like a home game for us.

J.T. Thomas (@TheRealJT3): More Bear fans than Cowboy fans in the stands tonite ... pretty amazing ... another W in the books!

Adam Podlesh (@Adampodlesh08): Great win tonight! A special thanks to the impressive amount of Bears fans who made it out to Dallas.

Eric Weems (@ericweems): Great fan support tonite felt like we were the home team!

Robbie Gould (@RobbieGould09): Big win tonight. Huge fan support in Dallas. On to the Jaguars.

Evan Rodriguez (@ERod_Inc): Felt like a home game with all the fans at the game. Bears fans took over the crowd.

Blake Costanzo (@BlakeCostanzo51): Bears fans in Dallas loved it. Bear down livin.