Informed by general manager Ryan Pace that he would not be returning for a fourth season as Bears head coach, John Fox conducted a final team meeting Monday morning.
"Guys were glad that he was here," said cornerback Prince Amukamara. "The tone was pretty emotional [like] last night. Today I think was even more emotional because it actually happened and a lot of guys just gave him hugs and told him that we loved him after he said a few words."
Fox was relieved of his duties with one year remaining on his contract after compiling a 14-34 record in three seasons with the Bears. Despite his lack of success, he was praised by players.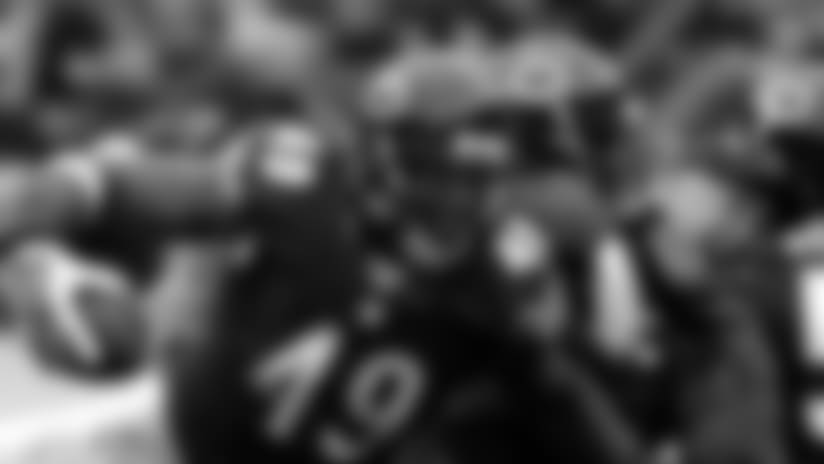 Sam Acho celebrates a 2015 turnover with former Bears Head Coach John Fox.


"Coach Fox just believes in us," said outside linebacker Sam Acho. "When everyone else was down on us—the fans were, the media, our families—he still believed. He walked in with this confidence and this smile on his face like he knew we were going to win.
"That's why you saw us play so well toward the end of the season. He knew we could do it. A lot of teams would have fractured. They would have given up. They would've quit. There would have been a lot of in-fighting and a lot of divisiveness, but he kept us together. He believed in us as individuals, as players, as men, and I admire him for that."
"Everybody was sad," said outside linebacker Leonard Floyd, who was selected by the Bears with the ninth pick in the 2016 draft. "Coach Fox is a great man. I love him to death. He gave me the opportunity to come play here by drafting me. I wish nothing but the best for him."
Amukamara described Fox as a "great passionate coach."
"He didn't give up on, didn't quit on us, and that's very special for a head coach," Amukamara said. "One thing we did appreciate about him is he always pointed the thumb and not the finger, so he takes all the blame and we love him and I know guys are going to miss him."
"He was always there for us, wanted the best for us," added cornerback Kyle Fuller. "But unfortunately things didn't work out exactly the way we wanted it to. We'll just have to learn from that, regardless who's here or not and just get better from it."
Most Bears players learned of the news Monday morning via national reports.
"Everybody's sad about it," said outside linebacker Lamarr Houston. "He's a great coach. He's a great man. He teaches you more than just football, under him and working with him. It's just sad news. You hate for anybody to lose their job."
"It's definitely rough," added inside linebacker Nick Kwiatkoski. "No matter who that is, it's not easy to watch. But someone that you've been with for myself the past two years every day, it's definitely a rough situation and it's definitely hard to watch. It's not easy to witness."
Acho feels that the imprint that Fox made on the Bears will help the team succeed in the future.
"I think coach Fox really helped build a culture," Acho said. "If you just go back and think about some teams that have been successful and won, it wasn't always the coach that came in that next year and won for that team; it was oftentimes the foundation built beforehand. I think he built a great foundation. I was glad for three years to be able to call him coach.
"Whether I'm on this team or not, I think you're going to see success in the future and I think a lot of that is going to be attributed to the foundation and the culture that he built in his three years here."
Some Bears players expressed their feelings about Fox's departure on Twitter: