Larry Mayer and Eli Kaberon of ChicagoBears.com discuss the Bears players they'll be watching on both sides of the ball in Sunday's road game against the Philadelphia Eagles.
Mayer
Offense: Tight end Adam Shaheen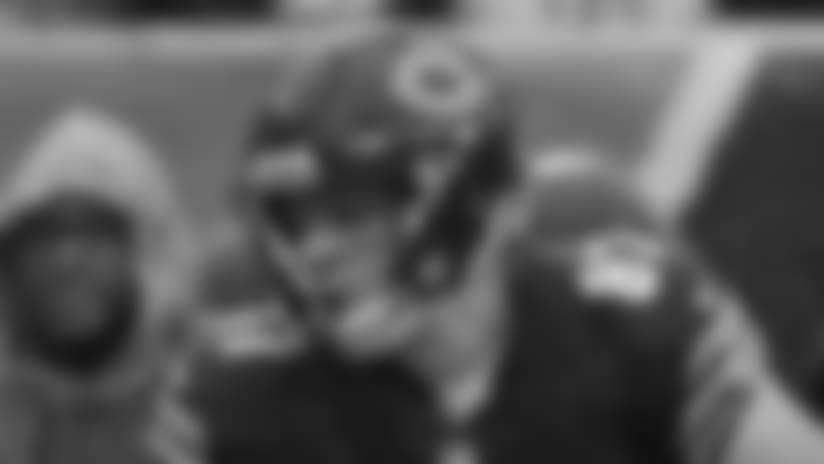 Shaheen had the most productive game of his rookie season last Sunday against the Lions and will be counted on again to make plays in the passing game versus the Eagles. The second-round pick from Ashland University caught four passes for 41 yards against Detroit, including a 22-yarder over the middle and a one-yard touchdown.
"Adam had a good game," said offensive coordinator Dowell Loggains. "It was good to see because Adam's a young player developing. Adam took a big step and took advantage of the opportunity with Dion [Sims] not being there."
Sims has returned to practice on a limited basis this week after missing the last two games with an undisclosed illness. But even if the veteran tight end is able to play Sunday against the Eagles, Shaheen will still be involved in the offense.
"As long as he's making steps in the right direction—we're high on Dion Sims as well—but we do not want to slow down Adam's progress that way," Loggains said. "And he's earned the play time the last two weeks. He's played better and better."
Defense: Outside linebacker Pernell McPhee
After absorbing another key injury on defense and tasked with facing one of the NFL's most explosive offenses, the Bears need McPhee to have the type of monster game they envisioned when they signed him in free agency in 2015. McPhee and his teammates will look to make up for the loss of promising outside linebacker Leonard Floyd, who suffered a season-ending knee injury late in last Sunday's loss to the Lions.
McPhee will face an Eagles offense that ranks second in the NFL in rushing and features an explosive passing game led by quarterback Carson Wentz and former Bears receiver Alshon Jeffery. The Eagles have won eight straight games and lead the NFL with 320 points and a 132-point differential. They have compiled at least 26 points in nine of 10 games this season and have scored 34, 33, 51 and 37 points in their last four contests.
After playing well most of the season, the Bears defense has struggled the last two weeks in losses to the Packers and Lions. The unit generated just one takeaway in those two games after creating eight in its previous three contests. If McPhee and his teammates can force multiple turnovers Sunday, it would greatly enhance the Bears' chances of pulling off an upset.
Kaberon
Offense: Receiver Kendall Wright
The Bears cannot risk being a one-dimensional offense against the Eagles; Philadelphia's defense is too dominant when that happens. Facing the Eagles last Sunday, Dallas saw its passing game disappear. The Cowboys were held to just 3.1 yards per pass play and no gains of 20 or more yards. By taking away their opponents' passing attack, Philadelphia effectively stopped the Cowboys offense before it could even get started. Of course, the Eagles didn't just limit passing yardage. They also kept Dallas out of the end zone and held them to just nine points.
Wright and the rest of the Chicago passing attack will need to make sure the Eagles can't duplicate that performance this Sunday. The Bears rushing attack has been fairly consistent all year long, and it's no secret the team will look to get Jordan Howard and Tarik Cohen going early on. But it will be on Wright and the Bears receivers to provide a downfield threat. The veteran receiver is averaging 11.4 yards per catch this season, and could do damage out of the slot. If Wright can be effective, the Bears can stay balanced on offense and not allow Philly's unit to dictate the game.
Defense: Cornerback Kyle Fuller
When Fuller lines up, he'll see a familiar face on the other side of the line of scrimmage. Receiver Alshon Jeffery is in his first year with the Eagles after spending five years in Chicago after the Bears took him in the second round of the 2012 draft. Fuller and Jeffery matched up many times in practice over the years, so they should be plenty familiar with one another.
Fuller has played well this season, but his former teammate may be the toughest challenge yet. Jeffery has become a favorite target of second-year Eagles quarterback Carson Wentz, with six touchdowns on the year. The Chicago defense will need to contain all of Wentz's downfield weapons, with Fuller defending Jeffery as the key matchup.