Larry Mayer and Eli Kaberon of ChicagoBears.com discuss the Bears players they'll be watching on both sides of the ball in Sunday's season opener against the Buffalo Bills:
Mayer
Offense: Jordan Mills
After missing the entire preseason with a foot injury, second-year right tackle Jordan Mills will face a difficult challenge when he returns to the starting lineup Sunday at Soldier Field. The 2013 fifth-round draft pick from Louisiana Tech will battle Bills defensive end Mario Williams, a three-time Pro Bowler who ranked fourth in the NFL with 13 sacks last season.
Bears offensive coordinator Aaron Kromer is confident that sitting out the preseason won't adversely affect Mills, who returned to practice Aug. 20. Said Kromer: "I know he missed the games, but I feel like what he's had to practice against and how he's performed in practice that he'll be ready and I don't think we'll see any ill effects of him not playing in the preseason."
Mills will also be key as a run blocker as the Bears look to establish a rushing attack behind Kyle Long, who ran for a career-high 1,339 yards last season, the second most in the NFL.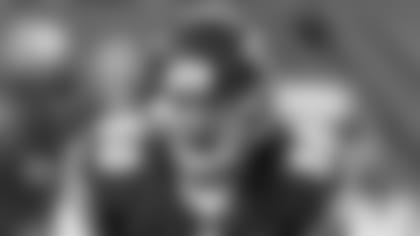 LB Shea McClellin
Defense: Shea McClellin
After two seasons at defensive end, Shea McClellin debuts at strongside linebacker against a Bills offense that features a solid ground game fueled by running backs C.J. Spiller and Fred Jackson.
Bears defensive coordinator Mel Tucker feels that McClellin has made strides at his new position, saying: "He is a highly intelligent football player. He's got good football instincts. He's becoming more comfortable in the position with what we are asking him to do and then getting the practice reps and the game reps, I think he gets better and better as we go."
McClellin needs to finish plays better than he did last season, when the 2012 first-round draft pick from Boise State produced 18 quarterback pressures but only four sacks, three of which came in one game against the Packers in Green Bay.
Kaberon
Much of the attention on the Bears passing game goes to wide receivers Brandon Marshall and Alshon Jeffery, and deservedly so. But don't forget the team's third wideout, Holmes, who has only been on the roster for a few weeks. Jay Cutler mentioned earlier in the week that he is "getting there" in terms of his chemistry with the receiver, and that should be apparent in the season opener versus Buffalo.
A shifty slot receiver who is talented with the ball in his hands after the catch, Holmes can work mismatches underneath while his fellow receivers make plays deep down the field. In the preseason finale versus the Browns, Holmes showed he still has good burst and can change directions quickly, evident in his 32-yard touchdown in that game. He's a talented sideline receiver, famous for dragging his toes in bounds to make plays, as he did when he caught the game-winning touchdown in Super Bowl XLIII. While Holmes may not see many balls thrown his way right away, the veteran playmaker still can do damage when he does have possession.
The Bears revamped their defensive line during the offseason, which included the signing of Lamarr Houston. The former Raider is expected to be on the field quite often, playing on the edge on run downs and then potentially kicking inside in pass-rushing situatoons. He is a physical and versatile player who could anchor the team's run defense.
With the Bills averaging 144.2 rushing yards per game a year ago—second-most in the NFL— Chicago's ability to stop the ground game will be tested early and often in Week 1. Houston could see single blocking on the line, with the Bills likely focusing multiple blockers on fellow end Jared Allen. If Houston takes advantage of those one-on-one chances and can slow down Buffalo backs C.J. Spiller and Fred Jackson, forcing long third downs for second-year quarterback E.J. Manuel, the Bears defense has a great chance of making the stops they will need to earn a victory.