After identifying five players on offense to watch in training camp Monday, here are five on the defensive side of the ball to monitor when the Bears hit the practice field beginning Thursday:
The Bears accomplished their goal of adding athleticism and speed to their defense by selecting Floyd with the ninth pick in the draft. The 6-6, 240-pounder appeared in 38 games with 32 starts in three seasons at Georgia, compiling 184 tackles, 28.5 tackles-for-loss and 17 sacks.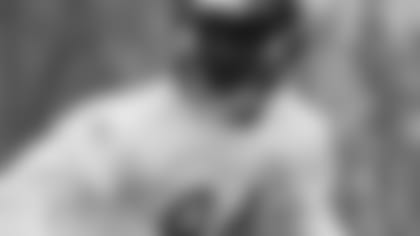 Leonard Floyd compiled 184 tackles, 28.5 tackles-for-loss and 17 sacksin three seasons at Georgia.


"He's got tremendous athleticism," coach John Fox said in June. "We talked about that even in the draft process. He's very smart, has played a lot of different positions, understands the game and he has the skill set to do all parts of his job, both in coverage and as far as [pass] rush."
After Floyd lined up all over the field at Georgia, the Bears are hoping that allowing him to focus on one position will accelerate his progress as a rookie. Floyd performed well in non-contact drills during the offseason but will face a new challenge when the pads come on in training camp.
Floyd will compete for playing time in Bourbonnais at a deep position that also includes Pernell McPhee, Willie Young, Lamarr Houston and Sam Acho.
After being slowed by a knee injury over the second half of last season, McPhee did not practice during the offseason. His recovery and availability will be among the most important issues to keep a close eye on this summer.
Signed by the Bears in free agency a year ago, McPhee quickly became the heart and soul of the defense, bringing toughness, attitude and leadership to the unit. The 6-3, 280-pounder recorded six sacks, 10 tackles-for-loss, one interception and one forced fumble in 14 games. McPhee was dominant during a five-game stretch before hurting his knee, registering 32 tackles and five sacks.
The Bears bolstered their defense during the offseason by adding inside linebackers Danny Trevathan and Jerrell Freeman and end Akiem Hicks in free agency and outside linebacker Leonard Floyd and end Jonathan Bullard in the draft. But McPhee remains a top impact player and must be healthy for the unit to reach its full potential in 2016.
Amos was a surprise contributor as a rookie last season, starting all 16 games after being selected by the Bears in the fifth round of the draft out of Penn State. He led the defense with 108 tackles, but did not record any interceptions, forced fumbles or fumble recoveries.
Amos needs to make more plays on the ball in his second season, and training camp would be a good place to start. The Bears have placed a major emphasis on creating more turnovers after their defense generated only 15 last season.
Another reason that Amos must step up his game is that the Bears are fairly young and inexperienced at the safety position, especially following the release of veteran Antrel Rolle after one injury-plagued season. Among those expected to compete for roles in camp will be second-year pro Harold Jones-Quartey and rookie draft picks Deon Bush and DeAndre Houston-Carson.
The 2015 second-round pick from Florida State looks to take the next step after showing promise as a rookie. Appearing in 15 games with 12 starts last year, Goldman had 39 tackles, 4.5 sacks and six tackles-for-loss. At nose tackle, he plays a key position in coordinator Vic Fangio's defense.
Goldman told reporters during OTAs that he has lost 10-15 pounds since tipping the scales at 340 as a rookie and feels lighter, stronger, faster and quicker. He said he lost the weight by having fewer "cheat" days and not going to Buffalo Wild Wings as often.
Goldman also is able to play faster because he has a better grasp of the defense. "Things come quicker," he said. "In football everything is right now, so when you can cut that [thinking] out and just know things second-nature, it saves you time and thinking and makes you more comfortable."
Some analysts have dubbed Bullard, a third-round pick, the steal of the draft after he was projected to go as high as the first round in some mocks. The 6-3, 285-pounder certainly looks the part, possessing the size and strength to contribute immediately.
Bullard's progress in the defense will be interesting to monitor in training camp. He felt that he made major strides during the offseason program, saying in June: "I'm starting to play a lot faster, make more plays, understanding the scheme of the defense a little better. You can learn it in the classroom, but when you [get actual reps], you get a better hang of it."
Bullard hopes to pick up as a Bears rookie where he left off last year at Florida when he established career highs with 66 tackles, 17.5 tackles-for-loss and 6.5 sacks.