There will be several interesting storylines to monitor when the Bears begin training camp Wednesday at Olivet Nazarene University in Bourbonnais. Five players on offense who will be especially intriguing to watch include the following: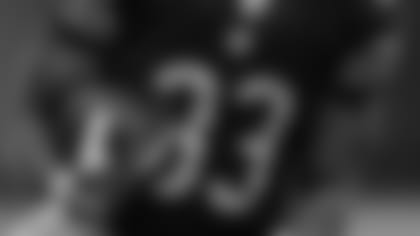 Jeremy Langford is expected to take over as the Bears' No. 1 running back this season following the departure of Matt Forte.


After a promising rookie season last year, Langford will be given every opportunity to replace departed free agent Matt Forte as the No. 1 running back. The Bears' faith in the Michigan State product played a major role in the team's decision not to offer Forte a new contract.
"I feel ready," Langford said during the offseason. "I learned a lot last year from Matt. I think it's going to help going into [this] season. I'm ready. I've just got to continue to learn and get better."
Langford rushed for 537 yards and a team-high six touchdowns on 148 carries and caught 22 passes for 279 yards and one TD last year. Heading into his second season, he must prove to be a better receiver out of the backfield after dropping a couple of key passes in 2015.
"I was pleased with my rookie year," Langford said. "Being as competitive as I am, I think there are a lot of things I could have done better. This year I want to try to be an every-down back and really have no reason to come off the field unless I'm tired."
After missing his entire rookie season with a leg injury, White hopes to become the star receiver the Bears envisioned when they selected him with the seventh pick in the 2015 draft.
Though he estimates he wasn't completely healthy until March, the 6-3, 217-pounder participated in the entire Bears offseason program without restrictions and is no longer thinking about the injury.
"Everything is full go," White said in May. "So I try to put as much energy as I can into it and run as fast as I can in practice so I can look at the film, study it and work on it the next day."
White possesses excellent size, speed and game-breaking ability, which he demonstrated in his final year at West Virginia in 2014 when he caught 109 passes for 1,447 yards and 10 TDs. The Bears hope that White will join Alshon Jeffery to form one of the NFL's most dynamic receiver tandems.
Grasu started eight games as a rookie last year and will open training camp as the Bears' No. 1 center. The 2015 third-round pick gained 15 pounds and now weighs 310. But even more important is that Grasu possesses a much better grasp of the offense than he did a year ago.
"The biggest thing for me this offseason," Grasu said in June, "is learning the playbook even more and getting more comfortable with the playbook to where I don't even have to think anymore on the field and I can just go fast and be confident and play to my strengths, which is being fast and being quick. Last year I caught myself thinking too much, just thinking if I'm doing the right thing or not, if I made the right call or not. But now I've got it down."
After participating in non-contact practices during the offseason, Grasu will be challenged when the pads come on in training camp by nose tackle Eddie Goldman, a 6-4, 332-pounder who also will be trying to earn a starting position in his second NFL season.
With veteran free-agent acquisition Ted Larsen sidelined due to an undisclosed injury, Whitehair lined up as the Bears' starting left guard during the final portion of the offseason program.
The rookie second-round pick will look to pick up in training camp where he left off in OTAs, where he'll be able to show his strength and technique in padded practices.
The Bears like the versatility of Whitehair, who started at left tackle his final two seasons at Kansas State after splitting time between left guard and right tackle his first two years. The 6-4, 301-pounder also possesses the type of football character the team covets.
"We drafted a very high character guy that has played a lot of football," offensive coordinator Dowell Loggains said in May. "He's tough. He's the type of player that coach [John] Fox wants. When you talk about a throwback, old-school guy, that's Cody."
Zach Miller replaces Martellus Bennett as the Bears' No. 1 tight end, but the depth chart behind Miller is wide open. One player who hopes to state his case for the No. 2 job in training camp is Braunecker, an undrafted rookie who some analysts had predicted would be picked as high as the fourth round.
Braunecker was named first-team All-Ivy League at Harvard last season after catching 48 passes for 850 yards and eight touchdowns. He finished his career with a flourish, topping 100 yards in four of his final six games with 123, 133, 130 and 134.
In addition to Miller, other tight ends on the Bears roster include Rob Housler, Khari Lee, converted defensive lineman Greg Scruggs, Gannon Sinclair and Joe Sommers.
"I think a nice, strong, reliable 'Y' tight end is what the Bears are looking for," Braunecker said in May, "so I'm just very thankful to be given the opportunity as an undrafted free agent to come into a system and to work with coach Frank Smith, who's great in my first impression at giving me the tools and the opportunity to be able to step in and hopefully make the roster."