MOBILE, Ala. – Several NFL prospects improved their draft stock during Senior Bowl practices Tuesday through Thursday. Here are five performers who impressed NFL analysts:
Alabama tight end O.J. Howard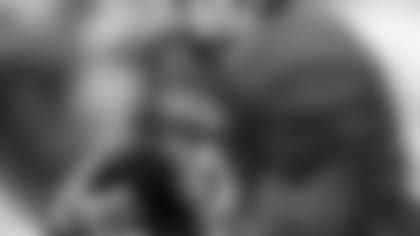 Alabama tight end O.J. Howard was tabbed as the most impressive player on the field on the first day of practice by NFL.com's Daniel Jeremiah.


NFL.com's Daniel Jeremiah tabbed Howard as the most impressive player on the field on the first day of practice Tuesday, writing that the 6-5, 249-pounder made a couple of one-handed catches, did a nice job of blocking in the run game and "made everything look easy."
Howard was seemingly underused in Alabama's offense, but in the national championship game the past two seasons he caught five passes for 208 yards and two touchdowns last year and four passes for 106 yards and 1 TD this year. ESPN's Todd McShay ranks Howard as the top tight end in the draft and the 25th best prospect overall, writing that his "size-speed combination gives him a lot of upside as a big-play threat in the NFL.
NFL.com's Mike Mayock agrees, noting that Howard has a perfect combination of height, weight, speed, toughness and athletic ability" and compares him to former Bears tight end Greg Olsen.
Boston College safety John Johnson
NFL.com's Daniel Jeremiah wrote that "NFL evaluators definitely noticed Johnson throughout the week" at the Senior Bowl, reporting that he "came into the weigh-in on Tuesday and looked the part and then went to work on the field in practice. Johnson is a former cornerback who showed off his fluidity in space and ball skills during practice. His ability to play as a high safety or matchup in the slot should increase his value."
Johnson started all 13 games at free safety for Boston College this past season, leading the team with three interceptions and ranking second with 77 tackles. McShay described the 6-1, 205-pounder as an intriguing player who "showed a ton of versatility" this week in Mobile and "can play cornerback if needed and cover a lot of ground as a safety."
East Carolina receiver Zay Jones
Jones impressed NFL teams with his speed this week in Mobile. McShay labeled the 6-2, 202-pounder as "crazy fast," writing that Jones "played in East Carolina's Air Raid system, which features a lot of bubble screens and didn't showcase his potential as a vertical threat. This guy has unreal speed. He ran past guys consistently at the second level and tracked the deep ball really well this week. Could he be a Day 2 pick? I need to go back and watch more of his tape, but it's possible. I'm really interested to see what he runs at the combine."
Jones was ultra-productive at East Carolina, setting FBS records for the most receptions in a career with 399 and in a season with 158 (for 1,746 yards and eight touchdowns) as a senior.
Eastern Washington receiver Connor Kupp
NFL.com's Bucky Brooks felt that Kupp helped himself more than any other prospect at the Senior Bowl, writing: "Scouts are always intrigued to see how a player from a small school fares against top competition. With his route running and ability to snatch the ball in a crowd, he stood out. You could make the argument that he's the best receiver here. Everyone has been raving about him."
Kupp played at the FCS level (formerly known as Division I-AA) but was ultra-productive, becoming college football's all-time leading receiver with 6,464 career yards. The 6-2, 198-pounder is also the all-time FCS leader with 428 receptions and 73 TD catches, and won the Walter Payton Award in 2015 as the top offensive player at the FCS level.
Temple inside linebacker Haason Reddick
Mayock described Reddick as the most impressive player in practice as well as the prospect who made the most money with his performance in Mobile.
"He had a really impressive week," Mayock wrote. "He was a hand-in-the-dirt 4-3 defensive end with a lot of sack production at Temple, but down here they asked him to stand up and play two different positions, and every day he got better. And his attitude about the switch was terrific; I got a kick out of how he embraced it.
"The last two days of practice, I don't think he lost a rep. He bounced around and made plays all week. At 6-foot-1 and 237 pounds, most see him as a 'tweener,' but I think he showed versatility. I came into the week wondering what he would be at the next level, and at the end of the practice sessions I left thinking he could be an inside linebacker in a 3-4, an inside linebacker in a 4-3, and an occasional edge rusher. Bottom line: He showed he can do a bunch of things and do them well. He might not have to come off the field."