Bears punter Adam Podlesh spent part of a recent afternoon in Gavin Waterman's hospital room, watching "Pirates of the Caribbean" and talking sports with the six-year-old cancer patient.
Podlesh brought Gavin an autographed football as well as Bears sunglasses, a stuffed Staley teddy bear and a practice jersey. But his visit to Loyola University Medical Center in Maywood isn't the only way that Podlesh is helping the young boy.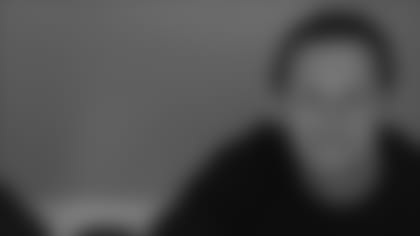 Bears punter Adam Podlesh brought Gavin Waterman an autographed football during a recent visit.
The Bears veteran has organized an event Wednesday night at which he and some of his teammates will have their heads shaved to raise money for Gavin's family and raise cancer awareness.

"We had been throwing out ideas on what we could do to help them out and we decided on raising money shaving heads for Gavin, which is applicable because with his chemotherapy he'll be losing his hair in the next week or two," Podlesh said.

Podlesh reports that fellow Bears players Robbie Gould, Blake Costanzo, James Anderson and Austin Signor also have agreed to shave their heads, and a few others are expected to join them.

Donations can be made by clicking here. To show his appreciation, Podlesh will give away 20 different items autographed by all the players who get their heads shaved. Each $25 donation represents one entry—like a virtual raffle ticket.

"Adam's a great guy, said Jacob Waterman, Gavin's father. "We're really blessed to have him in our lives. He's been awesome getting things together and helping us out with the funds."

Jacob and Nicole Waterman live in downstate Mattoon with Gavin and his brothers, Kaleb, 9, and Dylan, 7.

Podlesh was introduced to the family by Phil Zielke, a cancer survivor who founded "Phil's Friends," an organization that provides support and comfort to those who are fighting cancer.

It's a cause that hits close to home for Podlesh, a cancer survivor himself. The punter was diagnosed with salivary gland cancer in February 2010 when he played for the Jacksonville Jaguars, and underwent surgery a month later to have a malignant tumor removed.

"I don't think that I would be as involved with cancer charities and events as I am now if I hadn't been diagnosed with cancer," Podlesh said. "After going through remission and being cancer free, I've really made it my purpose to try to do whatever I can to help the fight against cancer."