A healthy Tracy Porter has brought more than just veteran leadership to the Bears defense.
Since recovering from a hamstring injury that forced him to miss the first two games, the veteran cornerback has provided a major boost in the secondary with his playmaking ability.
"He's helped the group because he's performed well," said coach John Fox. "He does bring some experience to that room—we are kind of young at a lot of spots—but I think above all he's just performed well."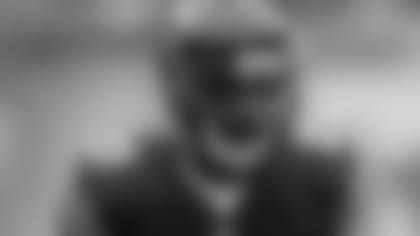 Tracy Porter helped limit Raiders receiver Amari Cooper to four receptions for 49 yards on October 4.
Porter helped limit Raiders receiver Amari Cooper to four receptions for 49 yards Oct. 4 after the highly-touted rookie had recorded back-to-back 100-yard games.
Porter than made a huge play in last Sunday's win over the Chiefs, breaking up Alex Smith's third-down slant pass intended for receiver Jeremy Maclin late in the game. Kansas City was forced to punt, which enabled the Bears to take possession with 2:04 remaining and march down the field for the game-winning touchdown.
"My mindset was to get the ball back for our offense; do whatever it took to make a play," said Porter, an eight-year veteran. "We knew that this team, any team for that matter, you have the lead, you're not going to try to throw a shot all the way down the field.
"So it's just me playing proper technique, being aggressive on the ball, having a good feel for what they like to run. He ran the slant and I was able to make a play on the ball."
Porter's experience was evident against the Chiefs and is extremely valuable in a secondary that also consists of second-year cornerback Kyle Fuller and rookie safeties Adrian Amos and Jonathan Anderson.
"It's definitely an asset," said defensive coordinator Vic Fangio. "The guy understands the game. He can watch tape and see things. You can talk to him as a coach and talk to him on a high level. The guy really understands football and he's been a big help to us."
Porter signed with the Bears in June. He arrived having appeared in 68 NFL games with 60 starts over seven seasons with the Saints (2008-11), Broncos (2012), Raiders (2013) and Redskins (2014). Prior to this year he compiled 288 tackles, 10 interceptions—three of which he returned for touchdowns—52 pass breakups, four forced fumbles, three fumble recoveries, 17 tackles-for-loss and 2.5 sacks.
Porter also has started six playoff games, recording 33 tackles, two interceptions, three pass breakups, one forced fumble and two tackles-for-loss. In Super Bowl XLIV, he intercepted a Peyton Manning pass and returned it 74 yards for a touchdown to help lift the Saints to a 31-17 victory over the Colts, giving New Orleans its first NFL championship.
Porter was selected by the Saints in the second round of the 2008 draft out of Indiana when Bears general manager Ryan Pace was New Orleans' director of pro scouting. When Porter played for the Broncos in 2012, Fox held the same position in Denver.
Porter was performing well this summer before he suffered a hamstring injury in the third preseason game against the Bengals. He missed the first two regular-season games and played sparingly in the third. But he never lost faith in his ability.
Asked what kept him going during that time, Porter said: "Just the fact that coach Fox had confidence in me, my teammates had confidence in me and the fact that I have confidence in myself. I know what I could do once healthy. Just having those three aspects allowed me to stay motivated."