ChicagoBears.com takes a look at some stats and facts from Sunday's game against the Ravens.
GOULD HITS 11TH GAME-WINNER; 6TH IN OVERTIME:
Bears K Robbie Gould hit a 38-yard field goal 6 minutes and 19 seconds into overtime to give the Bears a 23-20 win over the Baltimore Ravens.
The field goal was the 11th career game-winner for Gould (including the playoffs) and the sixth in overtime. It was his first game-winning field goal attempt since nailing a 41-yarder as time expired in the Bears 23-22 victory over the Carolina Panthers on October 28, 2012. It was his first game-winner in overtime since hitting a 38-yarder on December 22, 2008 in a 20-17 victory over the Green Bay Packers.
Nine of Gould's 11 game-winners have come at Soldier Field, including the last eight.
[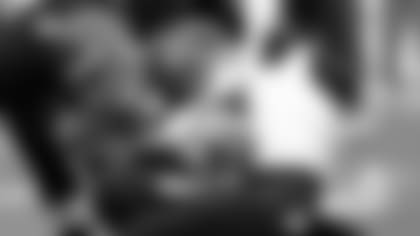 ](/multimedia/photo-gallery/Bears-vs-Ravens/2207a9da-e7ac-42dd-bf0f-47cccc613b3e)
Julius Peppers recorded multiple sacks for the 24th time in his career. Click image to see photo gallery.
Gould is now six-of-eight (75.0 percent) in overtime field goals, but the Bears won both games he missed field goals in (December 17, 2006 versus Tampa Bay and December 28, 2009 versus Minnesota).
MCCOWN IMPROVES TO 2-0 AS A STARTER:
Bears QB Josh McCown won his second start of the season filling in for injured starting QB Jay Cutler. McCown was 19-of-31 passing for 216 yards and a touchdown for a 92.9 passer rating in the win.
McCown was nine-of-11 passing for 132 yards and a touchdown in the second half and overtime versus the Ravens for a 147.0 passer rating. He was two-of-three in overtime for 57 yards, with a 14-yard pass to WR Alshon Jeffery on third-and-nine from the Bears 21 and a 43-yard pass to TE Martellus Bennett down to the Baltimore 22.
On the season, McCown is 61-of-101 passing for 754 yards, five touchdowns and no interceptions for a 100.0 passer rating.
DE DAVID BASS RECORDS INT TOUCHDOWN:
Bears rookie DE David Bass picked off Ravens QB Joe Flacco in the second quarter for his first career interception and returned it 24 yards for his first career touchdown.
Bass is the first Bears defensive lineman to have an interception return touchdown since Michael Haynes had a 45-yard INT score on November 14, 2004 at Tennessee.
Bass is the first Bears rookie defensive lineman to record an interception since DT Jon Norris on October 18, 1987 versus New Orleans.
It was the second touchdown by a Bears defensive lineman this season after DE Julius Peppers had a 42-yard fumble return touchdown at Pittsburgh in Week 3 (September 22).
It was the fifth defensive touchdown of the season for Chicago (four interceptions and one fumble), who are 4-0 in such contests (they had multiple defensive touchdowns at Pittsburgh). Over the last 10 seasons, the Bears have 39 defensive touchdowns (30 interceptions and nine fumble returns) and are 28-5 (.848) in those contests. Since 2005, the Bears are 25-2 (.926) when scoring a defensive touchdown, including 11-straight victories.
PEPPERS RECORDS 3RD & 4TH SACKS OF SEASON:
One play after drawing a holding penalty, Bears DE Julius Peppers recorded his third sack of the season, dropping Ravens QB Joe Flacco for an eight-yard sack back to the Chicago 49. Later in the second quarter, Peppers dropped Flacco for a four-yard loss.
It was the 24th game of Peppers' career in which he had at least two sacks and sixth as a member of the Bears.
Peppers now has 34.5 sacks as a member of the Bears (2010-13) and 115.5 for his career (18th in the NFL since 1982 when sacks became an official stat and third in the NFL since joining the league in 2002).
According to press box stats, Peppers had 11 tackles, two sacks, four tackles for losses and two quarterback hits.
OZOUGWU RECORDS FIRST CAREER SACK:
Bears DE Cheta Ozougwu recorded his first career sack in Week 11 versus the Ravens when he stripped the ball loose from QB Joe Flacco in the fourth quarter on fourth-and-eight, forcing a turnover on downs.
Ozougwu was elevated from the Bears practice squad this past Saturday was playing in his third career game.
LB JONATHAN BOSTIC RECORDS FIRST CAREER INT:
Bears rookie LB Jonathan Bostic picked off Ravens QB Joe Flacco in the second quarter at the 50, for his first career interception. The Bears offense converted the interception into a field goal.
Bostic and DE David Bass are the first set of Bears rookies to record an interception in the same game since S Markus Paul and CB Donnell Woolford on October 29, 1989 versus the Los Angeles Rams.
Bostic is the first Bears rookie linebacker to record an interception since Lance Briggs on December 7, 2003 at Green Bay.
FORTE HAS 125 YARDS FROM SCRIMMAGE:
Bears RB Matt Forte had 83 yards rushing on 18 carries (4.6 ypc) and 42 yards receiving with a touchdown on five receptions (8.4 ypr) for 125 yards from scrimmage.
Forte now has 774 rushing yards and 374 receiving yards in 2013 for 1,148 yards from scrimmage this season.
He has 1,100 yards from scrimmage in each of his first six NFL seasons (2008-13), the first player in franchise history to accomplish the feat and the 13th in NFL history.
JEFFERY TOTALS 100 YARDS:
Bears WR Alshon Jeffery had seven receptions for 83 yards and three rushes for 17 yards to total 100 yards versus the Baltimore Ravens.
On the 2013 season, Jeffery now has 54 receptions for 818 yards and three touchdowns and 12 carries for 111 yards to total 929 yards from scrimmage. His 111 rushing yards are the most ever by a Bears wide receiver.
His 1,185 receiving yards since joining the league last year are already eighth most by a Bears player in their first two NFL seasons.