INDIANAPOLIS — The Bears offense rewrote the team's record book in Marc Trestman's first season as head coach in 2013. But he thinks the unit can perform even better in Year 2.
Asked at the NFL Combine what stood out after he reviewed tape of the unit, Trestman said: "It's how much we left on the field. It's how much better we can be. And most coaches would say that it wasn't about what teams were doing defensively with all due respect, it's things that we need to do better and can do better than can allow us to be a lot more productive."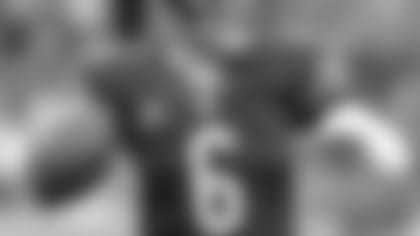 Jay Cutler posted a career-high 89.2 passer rating in Marc Trestman's first season as Bears coach.
In 2013, the Bears ranked second in the NFL with 445 points and set franchise records with 6,109 total yards, 4,450 passing yards, 32 passing touchdowns, a 96.9 passer rating and 344 first downs.
Known for his track record developing quarterbacks such as Steve Young and Rich Gannon, Trestman helped Jay Cutler and Josh McCown have career seasons. They also benefitted from working with offensive coordinator Aaron Kromer and position coach Matt Cavanaugh.
Playing for his fourth coordinator in five seasons with the Bears, Cutler posted a career-high 89.2 passer rating, completing 63.1 percent of his passes for 2,621 yards with 19 TDs and 12 interceptions in 11 games.
"The No. 1 thing that went into all this is Jay's football IQ, his selflessness," Trestman said. "His leadership skills are very high. A lot of it you don't see because he does it quietly in the locker room. He's not that outgoing, but he's very fluid within our locker room leading our football team."
With another year in the system, Trestman thinks that Cutler can play at a higher level in 2014.
"There are always fundamentals and techniques which can be improved," Trestman said. "The ball security issues in the pocket, we can do a better job as we move forward.
"On a daily basis, it's doing things he can do to keep himself healthy and then working in the offseason on fundamentals and techniques, ball security and things like that, like all quarterbacks do. It's universal; every quarterback does it to get better in the pocket."
While the Bears signed Cutler to a seven-year contract extension Jan. 2, McCown is slated to become an unrestricted free agent. He appeared in eight games with five starts in 2013, completing 66.5 percent of his passes for 1,829 yards with 13 TDs, one interception and a 109.0 passer rating.
"We want him to be a part of our football team," Trestman said. "We recognize how important he is, not just as the backup quarterback but as an influence in our locker room. He's a great leader and he's great for our quarterback room as well, which is the most important room in the building."
Trestman has remained in contact with McCown since the season ended.
"I've talked to him two or three times and I've texted with him," Trestman said. "He's in the loop into what's going on. I've called him on a personal level just to catch up with him and see how he sees the league and what's going on. We just like to talk football."
Because McCown inked a one-year minimum salary benefit contract with the Bears in 2013, he cannot sign a multi-year extension or another minimum salary benefit deal until the start of the league year March 11. But the Bears can negotiate with him at any time. In addition, they are the only NFL team that can talk to him before March 8, when a three-day window begins during which clubs can negotiate with players who are due to become free agents March 11.
"He knows exactly where he stands with us," Trestman said. "I think that he's going to take his time, see where things are at. When he's ready to say, 'I want to come back,' I know [general manager] Phil [Emery] is going to do everything he can [to re-sign him]."