Shuffling their offensive line during offseason workouts and training camp has helped the Bears deal with injuries to two veteran starters and a key position change.
Since the Bears broke camp in Bourbonnais, they've lost center Will Montgomery for the season with a leg injury and left tackle Jermon Bushrod for three games with a concussion. They also moved two-time Pro Bowler Kyle Long from right guard to right tackle.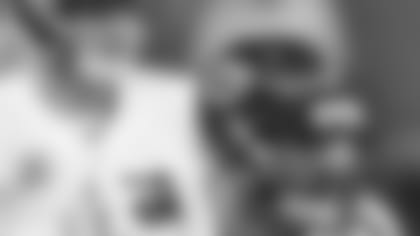 Two-time Pro Bowler Kyle Long continues to try to master a new position.
"As you go into the season and you're preparing, you try to look ahead and move guys around," said offensive line coach Dave Magazu.
"It might not be a ton of work, but we messed around a little bit during the preseason with [Matt] Slauson playing center and we had to use that in a game. There's sometimes a method to the madness and it's a next-guy up attitude. I think everybody knows when one guy goes down, the next guy has to step up."
When Montgomery broke his leg on the third play of an Oct. 4 win over the Raiders, Slauson shifted from left guard to center. He returned to his natural position a week later with rookie Hroniss Grasu making his NFL debut as the new starting center.
Magazu joked Wednesday that he worked Grasu so hard in training camp that the rookie recently told him "you damn near tried to kill me." But all that work has paid dividends given how well the third-round pick has performed since being called upon.
"We had this young guy we picked for a reason and thought he was close to being NFL ready, but there were a lot of things he had to learn," Magazu said.
"He started to melt a little bit like an ice cream cone during camp because he got so much work and it's paid off. He's learned there are so many details. It's not just who you block or how you block them. There's a pace to the game a little bit and he's learning. He's played really well and matched up well against some good players."
Second-year pro Charles Leno Jr. Jr. also has performed well at left tackle while starting the last three games in place of the injured Bushrod.
"Looking back at the last six months, you could see the ability," Magazu said. "You could see his work ethic. You could see his intelligence. But it wasn't clicking. Then one day [a couple weeks ago] he comes up to me at practice and goes, 'I think I've got it.'"
Long, meanwhile, continues to try to master a new position. He harshly critiqued his own play in last Sunday's loss to the Lions, writing on Twitter: "I played like dog [poop] today. Missed blocks, holding penalties. You should never hear my name. Sorry Chicago. You deserve great."
The third-year pro also told reporters that he made Lions linebacker Josh Bynes look like an all-star, and while his pass protection is improving he "can't continue to make the same mistakes in the run game."
Magazu appreciates how Long took ownership of his performance.
"He's a big boy," Magazu said. "He's not afraid to take responsibility. When you point the finger, you point it at yourself first. It's not like he's a rookie. He understands. He's a good football player. There's no doubt about that. He'll continue to grow."
Some of that growth was evident last Sunday when Long helped the Bears handle a blitz that was just like one they had failed to pick up in a Week 1 loss to the Packers.
"We got that same blitz last week against Detroit and there was no issue," Magazu said. "There's a learning curve there and from a technique standpoint I think he needs to continue to improve and he knows that. But when you look at it from a production standpoint, he has produced better, and that's the bottom line. Some of the detail things we all need to continue to improve."