This week you'll probably hear some people complain that the preseason finale is meaningless, but Bears fullback Tyler Clutts certainly won't be among them.
Playing for the Browns against the Bears in the final preseason game last season, Clutts impressed the Bears so much that they claimed him off Cleveland's practice squad less than a week later.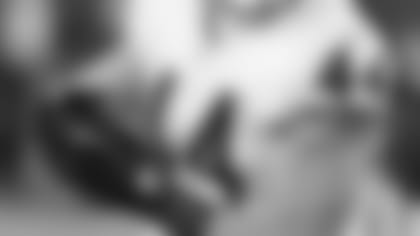 Fullback Tyler Clutts caught eight passes for 48 yards with the Bears last season.
"It's a chance for all the guys that are unsure of their position with that team to either solidify their spot with that team or give the 31 other teams a final look at them," Clutts said Monday.
"It's really an important game. That's the game that sticks with the personnel guys and that's what you leave your mark with. It worked out really great for me."
Clutts experienced a wide range of emotions a year ago this week. He felt that he had earned a spot on the Browns' 53-man roster, but was waived during final cuts. Added to Cleveland's practice squad, he was then claimed by the Bears and ultimately appeared in all 16 games with eight starts.
"It was tough," Clutts said. "I came out of that [preseason finale] feeling confident about my spot with the team. They had other plans, but it all worked out for the best. If I had not taken that last game seriously, I may not have had a job after that."
Few players have taken a more unorthodox route to the NFL. A four-year letterman at Fresno State, Clutts played with the Edmonton Eskimos in the Canadian Football League (2008-09), the Utah Blaze in the Arena Football League (2010) and the Sacramento Mountain Lions in the United Football League (2010) before signing with the Browns as a free agent.
A defensive end who recorded 231/2 sacks in four seasons at Fresno State, Clutts permanently switched to fullback with the Mountain Lions two years ago.
While players who are on the roster bubble try to focus only about what they can control, Clutts conceded that most at least take a glimpse at the big picture.
"You have an idea going into the fourth preseason game who's going to make it, who's on the bubble, and then if you're on the bubble who your competition is," Clutts said.
"Yeah, you need to control what you can control because that's ultimately what matters. But you have an idea going in what you need to do, and you just need to go in and be as successful as you can."
Roster move:The Bears on Monday reached the NFL's mandatory 75-man roster limit by waiving fullback Harvey Unga. The team must reduce its roster to 53 by 8 p.m. (CT) Friday. [