Some of the Bears' top performers this summer in training camp and their first preseason game all share something in common that bodes well for the future.
Quarterback Mitch Trubisky, tight end Adam Shaheen, safety Eddie Jackson, running back Tarik Cohen and receiver Tanner Gentry are all rookies—with all but the undrafted Gentry part of the Bears' 2017 draft class.
Playing in his first NFL game, Trubisky sparkled in last Thursday night's preseason opener against the Broncos, completing his first 10 passes and leading the offense to two touchdowns and a field goal on his first three possessions.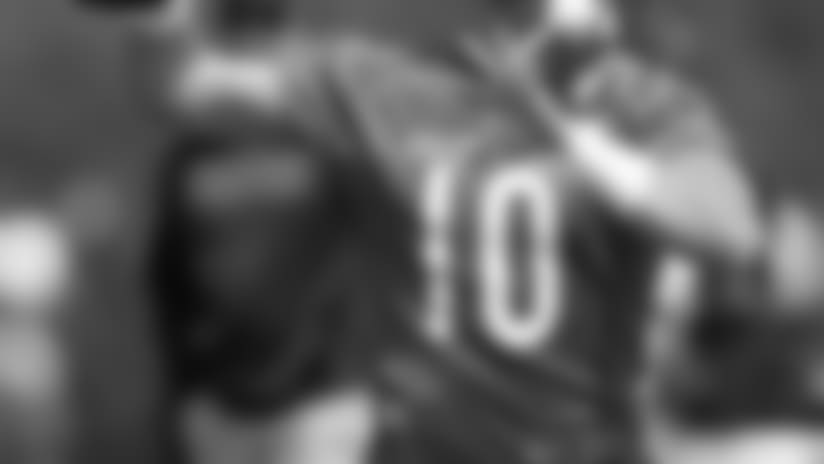 Bears quarterback Mitch Trubisky throws a pass during a recent practice in Bourbonnais.


Trubisky completed 18 of 25 passes for 166 yards with one touchdown and a 103.1 passer rating. The second pick in the draft helped the Bears produce 19 first downs on five possessions after they had mustered just four first downs on their first six drives.
Trubisky excelled while throwing on the run, a skill he displayed throughout training camp. Some of those plays were designed rollouts, but others came when he escaped pressure in the pocket. He showed excellent awareness and elusiveness, scrambling three times for 16, 12 and 10 yards while not getting sacked in the game.
"Who wants to get tackled? Who wants to get sacked? Not me," Trubisky said. "No negative plays, right? So yeah, I'm going to take off. I think my linemen appreciate that, too. They don't want the QB to hold the ball back there too long.
"So I'm going to go through my progressions. If it's not there, I'm going to pick a seam and get down and take care of myself as well. I think that's important—just create positive plays. Then the defense has to account for that as well. Hopefully that will open some things up, too."
Shaheen has made a smooth transition from Ashland University to the NFL, displaying the same ability that enabled him to set a Division II record for TD receptions by a tight end last year with 16. The 6-6, 270-pounder possesses ideal NFL size and is working on improving his blocking, something he wasn't asked to do much in college.
"I'm really pleased with him so far with what he's done, especially in the passing game," offensive coordinator Dowell Loggains said recently. "Coming from a smaller school we knew that the biggest adjustment would be in the run blocking and pass protection. He's done a nice job to this point."
Shaheen struggled a bit in the preseason opener due in part to nerves, uncharacteristically dropping a pass from Mark Sanchez. The second-round pick is eager to redeem himself Saturday night when the Bears visit the Arizona Cardinals.
"Having that drop, having a couple others I should've caught, was very humbling," Shaheen said. "I'm just excited to get back out there and not be as nervous or anxious."
Jackson has shown ball skills, instincts and range while competing for a starting safety position opposite Quintin Demps. The fourth-round pick made two impressive interceptions in training camp after sprinting from the middle of the field to the sideline.
Jackson had a 15-yard punt return against the Broncos and is contending for that job as well. He had a knack for finding the end zone on both defense and special teams the past two years at Alabama, scoring three touchdowns on interception returns of 50, 93 and 55 yards and two TDs on punt returns of 85 and 79 yards.
Cohen quickly became a fan favorite in Bourbonnais by displaying some of the same video game-like moves that earned the 5-6, 181-pounder the nickname "The Human Joystick" at North Carolina A&T.
The Bears project Cohen as a third-down "joker" back who possesses a different skill set than starter Jordan Howard and can create match-up nightmares for opposing defenses. The rookie running back is also competing for the punt return job.
Cohen rushed for 39 yards on seven carries in the preseason opener.
"I'm feeling very comfortable," Cohen said recently. "In our offense, the coordinator (Dowell Loggains) and coach Fox have really put me in the perfect position matchup-wise to be able to showcase my speed, agility and quickness."
No undrafted rookie was more impressive in training camp than Gentry, a receiver who had a breakout season last year at Wyoming with 72 receptions for 1,326 yards and 14 TDs.
The 6-2, 215-pounder consistently made big plays down the field in Bourbonnais. In the penultimate practice at Olivet Nazarene University Sunday, he leaped high over nickel back Cre'Von LeBlanc to haul in a Trubisky pass on fourth-and-three, sustaining a two-minute drive.
"He just goes up and gets it," Trubisky said. "He does his job and he's been beating his man on the outside. The opportunities he's been given, he's taken advantage of them."