The Bears signed Chris Prosinski in late September primarily to shore up a special-teams unit that had allowed kickoff return touchdowns in back-to-back games.
But the fifth-year safety was also determined to contribute on defense, something that he's accomplished the past two weeks in place of injured veteran Antrel Rolle.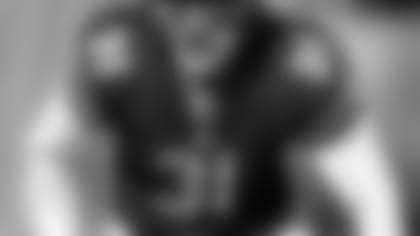 In Week 12, Prosinski tied for the team lead with nine tackles and produced a key takeaway with his first career forced fumble.
"I knew that [special teams] was a big reason I was coming in here," Prosinski said. "They had told me that those first couple weeks. But in my mind, it's next-man-up. I've been in situations where I've been the backup and been thrown into the game, so I'm always going to be prepared whatever my role's going to be. If a guy's nicked up, I'm ready to step in there."
Prior to this year, Prosinski had appeared in 56 games with nine starts over four seasons with the Jaguars (2011-14) and Eagles (2014).
After playing in six games as a reserve with the Bears, Prosinski made his first start Nov. 22 against the Broncos after Rolle hurt his ankle in practice.
"It was kind of crazy because it was the last play of that Friday practice, so honestly I didn't get too many reps going into that game," Prosinski said. "I was ready. I was prepared mentally. But there's really nothing you can substitute to get the actual reps. It's my fifth year. I've started a few games. I was just excited for the opportunity and wanted to make the most of it."
Prosinski missed a tackle on Demaryius Thomas' 48-yard touchdown reception on Denver's first possession, but the Wyoming product rebounded to record six tackles and his first career sack.
In his second start five days later in Green Bay, Prosinski tied for the team lead with nine tackles and produced a key takeaway with his first career forced fumble in a 17-13 win over the Packers.
Prosinski called Bears defensive coordinator Vic Fangio a "genius" after the Thanksgiving night victory at Lambeau Field and expanded on that thought this week at Halas Hall.
"He's really smart, just philosophy-wise and breaking down film and picking up on small things; QB mannerisms, how guys run their routes," Prosinski said. "It seems like he's always putting guys in the right position. It's not like we're doing crazy things as far as concepts. It seems like we've just been in the right position and when that happens, you have to credit the coordinator."
Prosinski credits Fangio with keeping the game plan simple and not overloading his players with too much information.
"That's huge," Prosinski said. "I think that's one of the bigger problems around the league. Coordinators can throw so much at you that it slows you down. When you're not thinking so much, it's just natural to go off instincts and you can read and react and play at a so much faster level. That's huge too."
The Bears defense, which has allowed just six touchdowns in its last five games, seems to be improving on a weekly basis. In the Thanksgiving night win over the Packers, the unit limited quarterback Aaron Rodgers to a 62.4 passer rating, his lowest in 61 career home games. Of the 11 starters on the Bears defense that night, eight are in their first year with the team.
"I think we're getting more confidence," Prosinski said. "This is a pretty new team as far as the roster itself. Once you get guys to start playing together and get those game reps, you get comfortable with each other and you start to get confidence. And confidence is huge in this game, so you start playing faster again and good things happen."