Bears rookie quarterback David Fales hasn't played in a preseason game since the opener Aug. 8 against the Eagles, but that will change Thursday night in Cleveland.
The sixth-round draft pick from San Jose State is expected to start and play all or at least most of the Bears' preseason finale versus the Browns at FirstEnergy Stadium.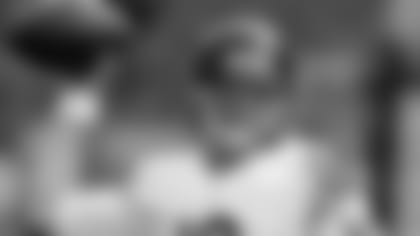 David Fales will see his most extended action of the preseason Thursday.
"I'm just excited to get out there, run around and have fun," Fales said. "I'm definitely excited just to get in and play and compete. I've been staying involved each week, so I know the offense, I know the reads. I'm definitely excited to go out there and play."
In the preseason opener against the Eagles, Fales completed 5 of 7 passes for 68 yards with one interception and a 62.5 passer rating. As a two-year starter at San Jose State, he passed for 4,193 yards and 33 touchdowns in 2012 and 4,189 yards and 33 TDs in 2013.
Third on the Bears' depth chart behind Jay Cutler and Jimmy Clausen, Fales knows that he will be auditioning for all 32 NFL teams Thursday night. At this point, it's unclear whether the Bears will keep two or three quarterbacks on their 53-man roster.
"It's a huge opportunity," Fales said. "I'm just trying to improve. I'm going to go out there and go through the reads, compete, take care of the ball, be smart, limit my turnovers and just have fun."
Helping kids: Like many others in the Chicago area, Cutler was enthralled by the Jackie Robinson West team from the city's south side that won the U.S. title at the Little League World Series.
Cutler's foundation has pledged to donate $15,000 to the team and another $15,000 to kids with diabetes at a local hospital. In addition, the Bears quarterback will invite every member of the team to one of his live radio shows where he will present each of them an autographed jersey.
"With my foundation, we try to give back to kids and these kids captured the heart of Chicago and they're an inspiration," Cutler said. "We try to do anything possible in Chicago to help each other, so this was a no-brainer for us.
"I think everyone enjoys watching the Little League World Series. I've watched it since I was a little kid, and to have a team from Chicago play as well as they did, it made it even more fun to watch."
Health update: Safety Chris Conte did not practice Monday due to the concussion he suffered in Friday night's preseason game against the Seahawks.
Asked about the severity of the concussion, coach Marc Trestman said: "It's a day-to-day thing. I saw him after the game and he was in a good place. But he's going through the protocol right now, so I don't have an answer to that question."
Receiver Marquess Wilson (collarbone), safety Ryan Mundy (head), guard/center Brian de la Puente (knee) and fullback Tony Fiammetta (hamstring) also sat out practice.
Cornerbacks Kyle Fuller and Isaiah Frey and guard/tackle Eben Britton all returned to practice after extended absences due to injuries.
Staying positive: The Bears have struggled on special teams to this point in the preseason, but veteran coordinator Joe DeCamillis is not discouraged.
"I'm glad it's happening now instead of during the season, to be honest with you," he said. "That's how I'm looking at it. Looking at it from the positive viewpoint is we're getting things that we don't want to have happen during the regular season. We can identify them and we can correct them.
"Sometimes you get a false sense in the regular season going in to where you're not sure where the problems are coming from, so it's hard to fix them once you get there. By maybe not playing as well as we should have, hopefully that's putting a little bit more emphasis on it and I think it has been. I think our guys will rally to it and we're going to get better. I'm going to coach them better."