Quarterback Jay Cutler overcame multiple obstacles in 2015 to have what was arguably his best season since joining the Bears in 2009.
Operating a new offense for the fifth time in seven years in Chicago, Cutler spent much of the season throwing to teammates with little or no NFL experience after injuries decimated the Bears' receiving corps.
Despite the lack of continuity, the veteran quarterback posted a career-high 92.3 passer rating and reduced his interceptions from 18 in 2014 to 11. As a result of his performance, ChicagoBears.com has selected Cutler the Bears' Most Valuable Player for 2015.
"I think Jay played really well this season," general manager Ryan Pace said earlier this month. "I was happy with his performance, especially with a lot of injuries to our skill players. I think he kind of persevered through that. Jay played well."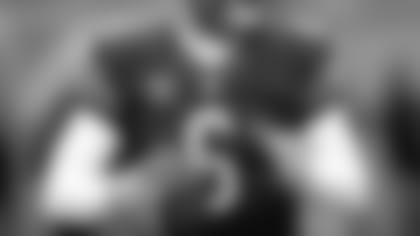 Quarterback Jay Cutler posted a career-high 92.3 passer rating in 2015.


The Bears' top four receivers entering the season combined to play just 29 of a possible 64 games. First-round pick Kevin White missed his entire rookie year with a stress fracture in his shin, veterans Alshon Jeffery and Eddie Royal were limited to nine games apiece, and Marquess Wilson sat out the final five games.
In the season finale against the Lions, the Bears' receivers were Joshua Bellamy, Marc Mariani, Cameron Meredith and Deonte Thompson, and their two tight ends were Khari Lee and Rob Housler (due to injuries to Martellus Bennett and Zach Miller).
"He's had a variety of receivers," coach John Fox said recently. "It's not an excuse; it's just a reality and when you figure that in, he's had a very good season."
Cutler was a model of consistency in 2015, posting passer ratings of at least 88.4 in 10 of 12 starts after missing a game-and-a-half early in the season with a hamstring injury. That includes ratings of 151.0, 117.0, 100.5 and 100.2.
"He's done it all season," Fox said late in the year. "He missed the second half of the Arizona game and wasn't able to play against Seattle. For six quarters when he wasn't in there, you feel it. The rest of the games he gives you a chance."
Cutler did not throw multiple interceptions in a game until the season finale, snapping a 14-game streak that was the longest of his career. Offensive coordinator Adam Gase, who has since left the Bears after one season to become head coach of the Miami Dolphins, credited Cutler's decision making.
"I just see the way that he's decisive," Gase said late in the year. "He knows exactly where he's supposed to go with the ball. The thing that's been most impressive has been how he's controlled the line of scrimmage in the no-huddle setting. It's allowed him to really show who he is. I know he's been somewhat of a quiet guy around here. But I think there's more to him than what he's shown in the past, and we're seeing that.
"He's taking control. He's aggressive with our players. And you can see the competitive side of his personality come out just in the way he is not afraid to check to some aggressive plays in the passing game. And he's done a great job in some of these third-and-long calls when he's gotten to a run play. You're sitting there like it takes some you-know-what to get to those because you better be right, and he's been right. So I think that part of his personality has really shown up for us."