PITTSBURGH — Evidence that the Bears had passed a very difficult first road test of the season with flying colors came during the final minute of Sunday night's game in Pittsburgh.
While much of the Steelers faithful had already departed Heinz Field, scores of Bears fans could be heard chanting "Let's Go Bears" and gleefully singing "Bear Down, Chicago Bears."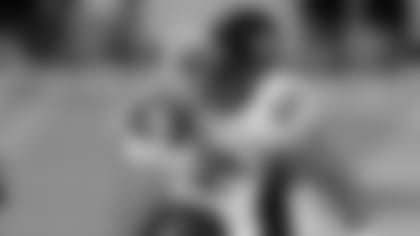 Matt Forte's 55-yard run set up a Bears touchdown in Sunday night's 40-23 win over the Pittsburgh Steelers.
They were in a celebratory mood after seeing their team improve to 3-0 for the first time since 2010 with an exciting 40-23 victory, but it certainly wasn't easy.

The Bears led 17-0 after 13 minutes and 27-10 early in the second half. But the Steelers (0-3) closed to within 27-23 early in the fourth quarter before Chicago pulled away with two late touchdowns on Jay Cutler's 17-yard pass to Earl Bennett and Julius Peppers' 42-yard fumble return.

"The guys in the locker room are very appreciative of the win," said coach Marc Trestman. "It was a very tough football game, all four quarters of it. There was a lot of emotion spent, a lot of ebb and flow to it and guys feel very fortunate to have come out on top."

With the victory, the Bears maintained sole possession of first place in the NFC North, one game ahead of the Lions (2-1), their opponent next Sunday in Detroit. The Packers are 1-2 after losing to the Bengals 38-34 Sunday in Cincinnati.

The Bears defense generated five takeaways, two of which it returned for touchdowns. Major Wright brought back a Ben Roethlisberger interception 38 yards to give Chicago a 24-3 lead in the second quarter, while Peppers provided the game's final points with 3:57 left in the fourth period.

"It's very contagious," said middle linebacker D.J. Williams, who recorded two sacks, one of which resulted in a fumble that was recovered by teammate James Anderson.

"That's all we preach all day inside of practice, outside of practice. And not only do we preach taking the ball away but we preach scoring. In practice, whether it's a fumble or not, we're scooping it and we're running all the way through the end zone."

The Bears won the turnover battle 5-0 as the offense kept the ball away from the Steelers. One week earlier the unit threw two interceptions and lost two fumbles in a win over the Vikings.

"We took care of the football; that was No. 1," Trestman said. "We took care of it and our guys went out and got it."

The Bears dominated early, scoring on their first three possessions to take a 17-0 first-quarter lead before the Steelers offense had even crossed the 50-yard line.

After Robbie Gould's 47-yard field goal made it 3-0, Williams blitzed up the middle and sacked Roethlisberger, forcing a fumble that Anderson recovered at the Pittsburgh 17.

The Bears converted the takeaway into Matt Forte's 5-yard touchdown run, increasing their lead to 10-0. Forte's 55-yard run later set up Michael Bush's 1-yard TD to make it 17-0.

After Shaun Suisham's 27-yard field goal closed the gap to 17-3, Wright's interception return gave the Bears a 24-3 lead before Roethlisberger's 33-yard TD pass to Antonio Brown drew the Steelers to within 24-10. Brown beat Tim Jennings on the play, which came after Anthony Walters had drawn a 15-yard penalty for roughing punter Zoltan Mesko, giving Pittsburgh a first down.

The Bears defense produced its third takeaway on the Steelers' second play of the second half as Wright stripped running back Felix Jones and Henry Melton recovered at the Pittsburgh 29. The Bears turned the turnover into Gould's 32-yard field goal, increasing their lead to 27-10.

The Steelers then scored 13 points on their next three possessions to close the gap to 27-23. After Suisham's 36-yard field goal, Roethlisberger lofted a 21-yard TD pass to Brown late in the third quarter and Suisham followed with a 44-yard field goal with 10:38 left in the fourth period.

The Bears responded, however, as Bennett made a sensational TD catch in the left corner of the end zone to widen the margin to 34-23 with 5:43 to play. He was initially ruled out of bounds, but Trestman challenged the call and it was overturned by referee Pete Morelli.

"In the fourth quarter we were able to hang in there, stay together and play together and be at our best," Trestman said. "I really appreciate the work our players did to get this thing done and our coaches in preparing them to play a very difficult game in a very tough environment to win, and we feel very grateful that we came out on top here."