Given the opportunity to handle all punting duties in Friday night's preseason win over the Giants, undrafted rookie Ryan Quigley![](/team/roster/ryan-quigley/71655a7c-8bc7-4ca9-9e11-78cca85cdcc0/ "Ryan Quigley") responded with an excellent performance.
With veteran Adam Podlesh sidelined with a hip flexor injury, Quigley averaged 43.6 yards and placed three of seven punts inside-the-20.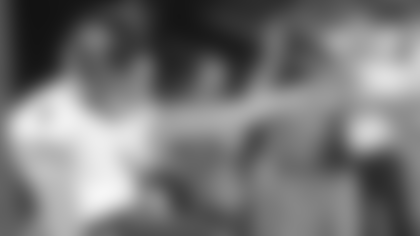 Bears rookie Ryan Quigley booms a 50-yard punt out of his own end zone in Friday night's preseason win over the Giants.
"Ryan Quigley did a good job punting the football," said coach Lovie Smith. "He's done that for us in practice. I like seeing a guy with a great opportunity in front of him step up to the plate, and he did that. I was really pleased with what he was able to do."
Quigley had one punt blocked late in the first half, but that resulted from a breakdown at the line of scrimmage. Six of his seven punts traveled at least 41 yards with the only exception a 36-yarder that was fair-caught at the Giants' 15-yard line.
"Anytime you have a blocked punt, it kind of puts a damper on the whole night," Quigley said. "But overall I think we 'netted' all right and our coverage was great. Great snaps from Pat [Mannelly] all night. It was good to get that experience. It doesn't really happen often for rookie punters."
Quigley's first four punts went for 46, 42, 50 and 48 yards with good hang time. The 50-yarder came when he was backed up in his own end zone.
"There were definitely some good butterflies at the beginning of the game," Quigley said. "But after the first two punts I felt like, 'All right, I'm comfortable and I'm ready to go.' And when Pat's putting them right on your hip every time and you have the coverage that we have, I'm comfortable back there to put the ball wherever it needs to be. It was a good night."
Thrown for a loss: The Bears defense recorded nine tackles-for-loss in Friday night's win. In the first quarter, safety Craig Steltz and cornerback Tim Jennings both made tackles behind the line of scrimmage on completed passes and defensive end Julius Peppers threw Domenik Hixon for a 13-yard loss back to the New York 2 on an end around.
Later in the game, linebacker Nick Roach, lineman Israel Idonije, end Shea McClellin, tackle John McCargo and end Aston Whiteside all registered tackles-for-loss on running plays. End Cheta Ozougwu recorded the Bears' only sack.
Backfield battle: The release of Kahlil Bell before Friday night's game left only Armando Allen and Lorenzo Booker on the depth chart behind Matt Forte and Michael Bush.
Against the Giants, Allen rushed for 11 yards on five carries and caught four passes for 31 yards. Booker gained 15 yards on five attempts, caught four passes for 30 yards and returned a kickoff 42 yards.[ ](http://www.phoenix.edu/campus-locations/il.html?utmsource=Story&utmmedium=instory&utmcampaign=300x100)
Try again: Recently-signed safety Mark LeGree forced a fumble and intercepted a pass on back-to-back plays on the Giants' final drive, but was credited with no takeaways.
LeGree stripped the ball from receiver Dan DePalma on a 25-yard pass play, but the Giants wideout scrambled to recover the fumble. LeGree then picked off an errant David Carr pass, but the play was nullified by a roughing-the-passer penalty against Whiteside.