The Bears will have a new starter on their offensive line Sunday when they host the Minnesota Vikings after Chilo Rachal left the team Wednesday for personal reasons.
Rachal started the last eight games at left guard. The 6-5, 323-pounder signed a one-year contract with the Bears in April after appearing in 55 games with 38 starts in four seasons with the 49ers.
<table border="0" cellpadding="4" width="200" align="right"> <tbody> <tr> <td>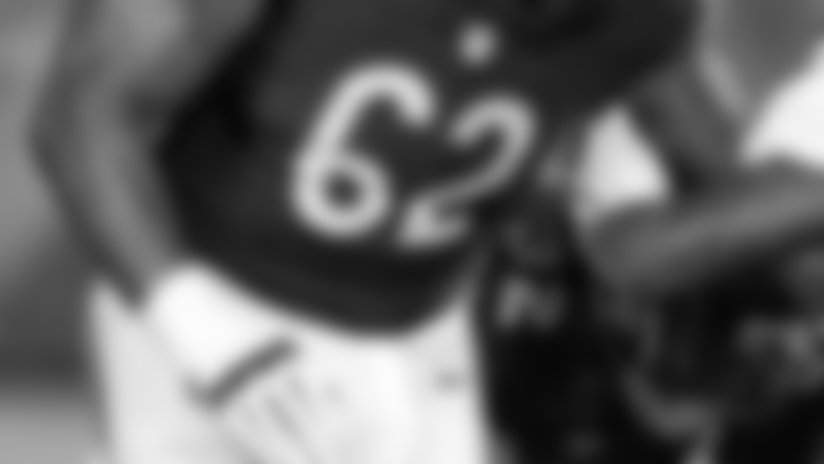 </td> </tr> <tr> <td>Chilo Rachal started the last eight games for the Bears at left guard.</td> </tr> </tbody> </table> The most logical replacement for Rachal is Chris Spencer, an eight-year veteran who started the first two games of the season at left guard before being supplanted by Rachal. The Bears also could consider guard Edwin Williams, who has been inactive in all 10 games this year.
Rachal was put on the reserve/left squad list and replaced on the 53-man roster by rookie guard/tackle James Brown, an undrafted free agent who was elevated from the practice squad.
Earlier Wednesday before the Bears announced that Rachal had left the team, Mike Tice hinted that changes could be made in the starting lineup in the wake of Monday night's debacle in San Francisco.
"We're evaluating our guys to see what's going to give us the best chance to succeed and do some of the things we're trying to accomplish offensively," said the Bears offensive coordinator. "We're looking at everything. We have to find a better way."
The line and the rest of the offense struggled mightily in a 32-7 loss to the 49ers, mustering just 143 total yards, yielding six sacks and crossing the 50-yard line only twice on 11 possessions.
"We watched the tape this morning," Tice said. "It was hard. It should have been hard to watch yourself because that's your resume. Right now my resume is not very good. I'm the one calling the plays and I'm the one leading the offense. I have to do a better job and I have to find a way to do a better job for all of us; for the players, for my peers that I work with and for the fans."
Tice was particularly perturbed that the Bears yielded three sacks on three-step drops.
"When you run three-step drops, you should have no sacks at the end of the season, and to give up three in one game is totally unacceptable," Tice said.
"When you're calling three-step drops, the last thing [you expect] is a sack. That kind of catches you a little bit. When there's multiple, it does affect some of what you're doing [with play-calling]. But that's not an excuse. If we don't have rhythm, that's my fault. We have to find a way."
Although Tice said he is "looking at everything," he told reporters that he does not intend to hand play-calling duties over to quarterbacks coach Jeremy Bates.
"What we've got to do is block better," Tice said. "It doesn't matter who is calling the plays. If you're not blocking people, we could bring Joe Gibbs out of retirement and have him call the plays and he couldn't call the plays. At the end of the day, you've got to block. If you're assigned a guy to block him, you've got to block him. That's the bottom line. Let's call it what it is."
Roberto Garza knows that changes could be made after such a poor outing, but the veteran center is confident that the line and the offense will bounce back.
"There's never job security when you put up a performance like that across the board," Garza said. "For us, we have to go back to work. We have to go out there and prove ourselves once again.
"We have the guys to do it. We have the coaching staff and we have the guys that take a lot of pride in what we do. We're going to go back to the practice field and correct those things. It's all technique things and things we did to ourselves, and we cannot let that happen again."