Having watched Lamarr Houston closely during his four seasons with the Raiders, Oakland radio analyst George Atkinson praised the Bears' decision to sign the free-agent defensive end.
"With his attitude, his motor and his commitment to team, you got a good player there," Atkinson said during an appearance on WSCR-AM 670 in Chicago this week.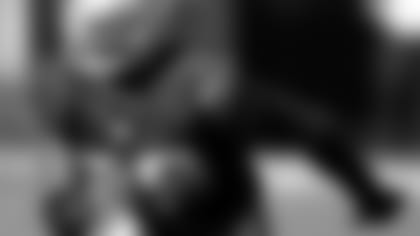 Defensive end Lamarr Houston registered a career-high six sacks last year with the Raiders.
"Watching him through the years, I watched him develop, from the first day he went to training camp up until last season, and this kid is getting better and better each year and he will continue to because he's eager, he's hungry, he wants to play and he wants to be the best.

"You could see it in his play. Chicago definitely has a good player, and not only is he good on the field, he's good off the field. You don't have any issues with him. Lamarr is just a solid citizen."

Houston was selected by the Raiders in the second round of the 2010 draft out of Texas. The 6-3, 302-pounder appeared in all 64 games with 60 starts the past four seasons, recording 226 tackles, 16 sacks, one interception, 37 tackles-for-loss, four forced fumbles and six fumble recoveries.

Last season Houston started all 16 games for the second straight year, establishing career highs with 69 tackles and six sacks while also recording two forced fumbles and one fumble recovery.

Atkinson, a Pro Bowl defensive back during 10 seasons with the Raiders from 1968-77, was impressed with how Houston continued to improve as a pass rusher since arriving in Oakland.

"He's worked his game to a point to where he's developed some pretty good moves and he will develop even more," Atkinson said. "He has an array of moves. You can tell he's a student of the game just by the mere fact of his improvement over the years. He's getting better and better
each year and I think [the Bears] got him at the right time."
Houston appealed to the Bears in part due to his production and versatility; his 136 tackles the past two seasons were the most by an NFL defensive end in a 4-3 system, and he played all four defensive line positions and lined up in a two-point and three-point stance.
"He's very quick for his size and he's strong," Atkinson said. "The guy can play. I think that if he gets into a system that can help develop his skills and put him in a position to make plays, he will do that for you. I was very impressed with how quickly he became a professional. I have nothing but the utmost respect for Lamarr Houston."