Veteran offensive lineman Manny Ramirez informed the Bears Wednesday that he's retiring from the NFL following eight seasons.
"When it's time, it's time," Ramirez told ChicagoBears.com. "You can't really push it anymore when your body tells you that you can't do what's required at this level. That's one thing that I've always told myself throughout my entire career, that when the body starts not being able to produce like it's supposed to, you really can't do anything about it."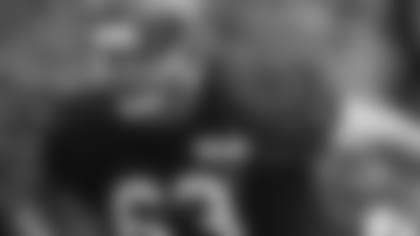 Offensive lineman Manny Ramirez, who signed with the Bears in March, has decided to retire.


Ramirez, who turned 33 in February, signed a one-year contract with the Bears March 30. He played in 83 games with 65 starts over eight seasons with the Lions and Broncos.
"You've got to listen to your body," Ramirez said. "I feel like I had the opportunity to come out here and try to compete, but the body wasn't responding like I wanted it to and when you don't have 100 percent focus on football and other things are running through your mind, it's not safe. I know this game isn't the type of game where you can just try to stick it out and stay in it. That's just where I'm at in my career."
Ramirez played four seasons for Bears coach John Fox and offensive line coach Dave Magazu with the Broncos from 2011-14. The 6-3, 325-pounder started all 16 games and three playoff contests at center for the Broncos in 2013 when they reached the Super Bowl. He opened the first eight games at center in 2014 before starting the final eight contests at right guard.
Ramirez was selected by the Lions in the fourth round of the 2007 draft out of Texas Tech. He spent his first three NFL seasons in Detroit and returned to the Lions for a second stint via a trade with the Broncos during last year's draft. Ramirez appeared in all 16 games for Detroit last season, starting three contests at right guard, two at left guard and two at center.
Ramirez said he's been contemplating retirement for a few weeks.
"At the beginning of the offseason I felt great," he said. "But once we started OTAs [in May], the body was just not responding like it's accustomed to. I understand the bumps and bruises and getting back into the rhythm of things, but my body has never felt the way it has these past few weeks. It just didn't feel comfortable or as strong anymore.
"I felt I wasn't able to react like I used to. I was concerned with the safety of myself and my future. The last thing I want to do is go out there and hurt myself or be the reason somebody else gets hurt."
Ramirez's only immediate plans are to return home to Texas Thursday to see his wife and three children, ages 8, 5 and 7 months.
"I've definitely had a blessed career," Ramirez said. "I've hit the highs and the lows and I'm definitely at peace about it. It's time to focus on my family."