Jeremiah Ratliff still has been unable to practice as he continues to recover from offseason groin surgery, but the veteran defensive tackle is happy about being a member of the Bears.
"I'm thankful and I'm loving it," said Ratliff, who agreed to a one-year contract Nov. 2. "I'm loving every minute of it. It's a great organization, great teammates and a great organization historically. I'm just looking forward to getting on the field and producing."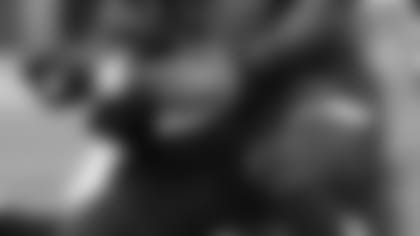 Defensive tackle Jeremiah Ratliff was voted to four Pro Bowls with the Cowboys.
Ratliff spent his first eight NFL seasons with the Cowboys after being selected by Dallas in the seventh round of the 2005 draft. After starting all 16 games and being voted to the Pro Bowl for four straight seasons from 2008-11, Ratliff was slowed by injuries last year.
The 6-4, 293-pounder has not played since last Nov. 18. He underwent groin surgery last December and then injured his hamstring during a conditioning test at the start of training camp. Ratliff opened the season on the Cowboys' physically unable to perform list and was released Oct. 16.
Asked about a timetable to return, Ratliff said: "Right now I'm just taking it one day at a time. I'm going with the plan that they've given me and I'm looking forward to being in there soon."
Coach Marc Trestman could not specify a timetable for Ratliff's return.
"I'm not trying to hold anything back. I just really can't say," Trestman said. "I've left it up to the trainers to let me know when things are getting close, and we're just going to continue to work with him. He seems really positive. But to give you a specific time, I don't have that."
When he does get back on the field, Ratliff intends to make an impact.
"I want to get out there and produce and I'm not going to say return to form but be better than I ever was," Ratliff said. "I'm definitely looking to have the best season of my career with what I have left, and that's my goal."
That certainly would boost a Bears defensive line that has lost tackles Henry Melton and Nate Collins for the season with torn ACLs.
"I know the reputation [Ratliff] has had from talking to coaches who have played against him," Trestman said. "He was one of the most difficult players to play against when he was playing at his best in the [NFC] Eastern Division.
"We'll just have to see. He's here to get himself restarted. I think his attitude is excellent. I know the guys are trying to get him ready to go, so we'll see. It's week-to-week and we'll see where we are. Hopefully he'll make a contribution before we go too much further."
Injury update: While Ratliff, quarterback Jay Cutler (ankle) and linebacker Lance Briggs (shoulder) have been ruled out of Sunday's game against the Ravens, long-snapper Patrick Mannelly (calf) and defensive end Shea McClellin (hamstring) sat out practice Friday and are listed as doubtful on the injury report.
After missing Thursday's workout, tight end Martellus Bennett (ankle) was limited Friday and is questionable.
"He worked out, probably 50 percent of the practice," Trestman said. "We tried to be smart with him. But he got work in and did well and hopefully with 48 hours, he'll feel even better. We got some execution done with him. It was good."