The Bears were pleased with Jeremiah Ratliff's debut performance Sunday in Minnesota and plan to increase the defensive tackle's playing time Monday night when they host the Cowboys.
Ratliff was on the field for 23 snaps against the Vikings. It was his first game action since last Nov. 18 when he suffered a groin injury while playing for Dallas.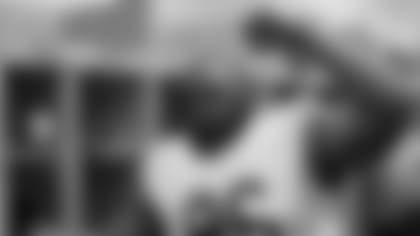 Jeremiah Ratliff gets prepared to play his first game in over a year Sunday against the Vikings.
"I thought he played well," said coach Marc Trestman. "We had him at 20-something snaps. We stayed true to that. I heard him come off a couple of times and say, 'Let me stay in my rhythm.' He felt he was mixing it up in there. We feel pretty good that he'll be able to play much longer this week."
Ratliff was credited with one tackle in the Bears' 23-20 overtime loss to the Vikings.
"It went OK," Ratliff said. "For the first game, it was kind of to be expected. It was my first time in pads in over a year, so it was a good start. There's nothing else to do from here but build.
"It was good to kind of get my feet wet and I came out good. I felt pretty good. I knocked some of the rust off and now I know exactly what I need to work on."
Ratliff spent his first eight NFL seasons with the Cowboys after being selected by Dallas in the seventh round of the 2005 draft out of Auburn. He was voted to four straight Pro Bowls while starting all 64 games from 2008-11, but was slowed by injuries last year.
After undergoing groin surgery last December, the 6-4, 293-pounder spent the first six weeks of the season on the Cowboys' physically unable to perform list before being released Oct. 16.
Ratliff did not leave Dallas on the best of terms, especially with owner Jerry Jones. But the veteran defensive tackle insists that he won't be thinking about gaining revenge against his former team Monday night at Soldier Field.
"It's just another game," Ratliff said. "It's just football. I don't get caught up in all that silly rivalry stuff or some payback. The thing is we're here to win and we're going to give every effort to do that."
During a Q-and-A with fans on ChicagoBears.com Tuesday, general manager Phil Emery was asked if Ratliff is in the team's future plans.
"Jeremiah is very much in our present plans," Emery said. "We were pleased with his level of productivity during his limited number of reps he had versus the Vikings. We're looking forward to him being able to contribute more total plays as he rounds back into playing shape. Future plans will be determined at the same time we determine other Bears players after the season."