Healthy again after missing three games with a concussion he suffered in a Week 2 win over the 49ers, Bears defensive tackle Jeremiah Ratliff is emerging as a disruptive force.
Ratliff recorded a career-high 3.5 sacks in last Sunday's loss to the Dolphins, the second most sacks in a game by a Bears defensive tackle behind Jim Osborne, who had four in a 1983 loss to the Falcons. Ratliff registered a total of eight tackles in the game.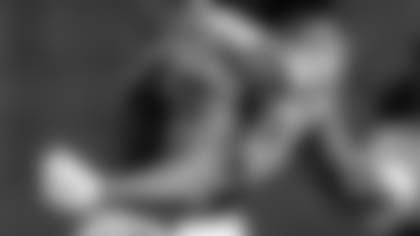 Jeremiah Ratliff celebrates after one of his sacks in last Sunday's loss to the Miami Dolphins.
"He was just relentless," said defensive coordinator Mel Tucker. "He's just very impressive. He plays very, very hard and he's very strong in the run game and also in the pass game. He's a guy that you know what you're going to get day-in and day-out."
Before last Sunday, Ratliff never had more than two sacks in a game. It was the fourth multi-sack game of his 10-year NFL career and his first in two seasons with the Bears.
In Ratliff (3.5 sacks) and teammate Stephen Paea (4), the Bears are the only NFL team that has two defensive tackles with at least 3.5 sacks this season.
"It helps our overall defense, our pass coverage, it helps our defensive ends," Tucker said.
"That's what you need to have. You have to have all four guys [rushing the passer]. We talk about that all the time. It takes all four to get it done. We've talked from Day 1 about pocket collapse and pocket push, and we're getting that and also an edge rush."
Tough task: Since 2009, the 49ers have the fifth best home record in the NFL at 32-10-1 and the Falcons are one slot behind them at 31-12. The Bears beat both San Francisco and Atlanta on the road this season and now play the team with the best home winning percentage over that span.
The Patriots are an impressive 40-3 at Gillette Stadium since 2009, losing only to the Giants 24-20 in 2011 and the Cardinals 20-18 and 49ers 41-34 in 2012. New England has won 12 straight home games, the longest current streak in the NFL.
"New England does it better than just about anybody," said defensive end Jared Allen. "Very rarely do they get beat on their home field. [But] it is still the National Football League and you see bizarre things happen every week.
"We've been playing well on the road, so we have to prepare. You can't look at it like we're going to face Tom Brady, Bill Belichick and the New England Patriots. We have to look at it as we're going to play a football game and we have to win situational battles and we have to win the turnover margin. If we can do that, we have a chance to win the game."
Tight end trouble: Dolphins tight end Charles Clay hurt the Bears repeatedly last Sunday, catching four passes for 58 yards and one touchdown. He gave Miami a 7-0 lead by beating Shea McClellin for a 13-yard score after catching a 25-yard pass earlier on the drive.
"We have to do a better job getting set up on the quarterback, not drifting in our zones and breaking on the football," Tucker said. "We have to make sure we break one-third the distance the ball's in the air. When we're in zone, we have to make sure we leverage the flat.
"When we get the opportunity to jam guys at the line of scrimmage, when we should, we need to get that done. We're going to be working on that all week because that's going to be important. Everyone's going to be at the point of attack this week in every phase of the game."
It doesn't get any easier for the Bears this week when they face Patriots tight end Rob Gronkowski, who is seemingly regaining his Pro Bowl form after being slowed by injuries.
Gould standard: Robbie Gould needs one field goal to tie Kevin Butler's record for the most in franchise history. Butler made 243 of 332 attempts (73.2 percent) in 171 games, while Gould has connected on 242 of 281 tries (86.1) in 144 contests.
"Probably the biggest thing that I didn't know about [Gould] is his competitive spirit," said special teams coordinator Joe DeCamillis, who's in his second year with the Bears. "I mean he really wants to be the best of all-time. That's what drives him. It's not fame, fortune, all those other things.
"I think he really wants to be the best. And that's the biggest thing that I think makes him who he is. He competes. He competes every single moment, every single play. We ask him to do some things kickoff-wise that Dave [Toub] didn't ask him to do here and he's done that for us. I think he also understands that he's going to do whatever he can to get his craft as good as he can make it."