Bears defensive lineman Jeremiah Ratliff has been suspended by the NFL without pay for the first three games of the season for violating the league's Policy and Program for Substances of Abuse.
The suspension stems from an incident that occurred on Jan. 22, 2013 when Ratliff—who played for the Cowboys at the time—was arrested just outside Dallas on suspicion of drunk driving. He pled guilty to the DWI charge in May and was given one year of probation and fined.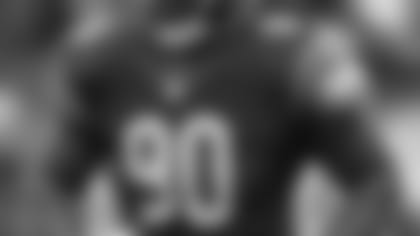 Bears defensive lineman Jeremiah Ratliff will miss the team's first three games.
The Bears anticipated that Ratliff would be suspended.
"It's something we've known about for a while," said coach John Fox. "It happened a couple years ago. It's not a new incident. It's not breaking news. So it was just a matter of time and just like anybody else, it'll be next man, next men up."
Asked for his reaction after practice Monday, Ratliff said he was going to "just move on."
"There are a lot of things I could be doing to help myself, help the team," Ratliff said. "That's what I'm going to focus on. This was about what, two three years ago. That's all behind me. This is the result of it. Just moving forward from here."
Ratliff will miss games against the Packers, Cardinals and Seahawks. During his suspension, the 11-year NFL veteran will be permitted to attend team meetings at Halas Hall but will be prohibited from practicing.
After serving the suspension, Ratliff will be eligible to resume practicing Sept. 28 and will be able to play in the Bears' Oct. 4 game against the Oakland Raiders at Soldier Field.
"It's tough to sit out any game for any reason," Ratliff said. "Of course, a situation like this doesn't make it any easier. I'm going to do what I have to do and I'll come back Week 4 and be ready to play."
Because the suspension doesn't begin until the regular season, Ratliff is allowed to practice the next two weeks and play in the Bears' last two preseason games against the Bengals and Browns.
"I think he's still going to be a viable part of our defense," Fox said. "He'll still be in the building. He doesn't have to start serving the suspension until we start preparing for Green Bay. He's been a big help with the young players as a leader, so he'll still be in the building, still be working, still be practicing, and we'll keep you updated on what his playing time will be through the next two preseason games."
Ratliff spent nine seasons with the Cowboys from 2005-13, earning four consecutive trips to the Pro Bowl from 2008-11. Since joining the Bears midway through the 2013 season, he has appeared in 16 games with 15 starts, recording 55.2 tackles and eight sacks.
Ratliff wouldn't say whether he felt the suspension was fair.
"Honestly, it doesn't matter what I think, does it?" he said. "The results are the results. As I said before, it's all about getting better at this point in time. Keep working, keep being busy and keep staying focused; it's not going to change anything for me."