DETROIT — The Bears defense struggled mightily trying to contain Lions running back Reggie Bush during the first half of Sunday's NFC North clash at Ford Field.
Bush rushed for 112 yards on 11 carries in the first two quarters, including a 37-yard touchdown just before halftime that gave the Lions a 30-10 lead en route to a 40-32 victory.
[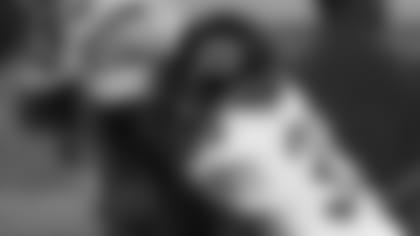 ](/multimedia/photo-gallery/Lions-vs-Bears/413e4d64-713a-424f-9b87-b983a8aa227a)
Charles Tillman tackles Reggie Bush during the Bears' 40-32 loss in Detroit. Click to view photos from the game.
"I think we just missed a lot of tackles," said cornerback Charles Tillman. "And he did a good job of making his moves. You have to give credit where credit is due. He's a good back."
"Reggie Bush is special," added safety Major Wright. "He has speed. He can shake you. He can do everything."
In addition to the 37-yard TD, Bush had runs of 17, 16 and 15 yards in the first half. Most of his damage came on runs up the middle.
"It comes down to being gap-to-gap sound across the front-whether it's the d-line, linebackers or safeties-and then making a play when it comes to you," said defensive end Corey Wootton.
"That's why we always stress rallying to the football just because of how he breaks tackles. We were trying to get the ball out, but he had some pretty good ball security today."
Big plays: With a 53-yard touchdown run in the second quarter, Matt Forte became the first Bears player with runs of at least 50 yards in back-to-back games since Raymont Harris the first two weeks of the 1997 season. Forte had a 55-yarder in last Sunday night's win in Pittsburgh.
Receivers Brandon Marshall and Alshon Jeffery both delivered downfield blocks on the TD run.
"I saw a huge hole," said Forte, who finished with 95 yards on 14 carries. "I'm thankful for our receivers out there working hard for me. That was a great call by the way. The defensive ends squeezed down so I had an alley to run through. Alshon blocked his guy in to the safety and Brandon sealed his guy on the outside, so it was just a big hole.
No quit: Coach Marc Trestman was impressed with how the Bears responded after falling behind 30-13 at halftime, outscoring the Lions 19-10 over the final two quarters.
"At halftime we got together and talked to our team about there would be a time just like this where the game appeared to be out of hand," Trestman said. "We decided we were going to collect ourselves and go back in and play the next 30 minutes and see more about ourselves.
"I think we did. There are no moral victories. But I thought our guys played tough for the last 30 minutes of the game. I know as a staff we appreciate that."
Solid protection: The Bears yielded three sacks, one of which the Lions turned into a touchdown when Ndamukong Suh forced a Jay Cutler fumble that Nick Fairly returned four yards. But Cutler was pleased with the pass protection he received.
"I thought the offensive line battled all day long," Cutler said. "I thought they did a great job, especially in a pass heavy situation that we were in in the third and fourth quarter. I thought they played their butts off. It just boils down to my turnovers. We've got to give ourselves a better chance. I've got to play better."
Catch this: Martellus Bennett led the Bears with eight receptions for 90 yards. Marshall had seven catches for 79 yards. Jeffery caught five passes for a game-high 107 yards and gained 27 yards on a reverse.
Personnel notes: Nate Collins made his first NFL start at defensive tackle in place of Henry Melton, who tore his ACL last Sunday night against the Steelers. Recently signed Landon Cohen saw some action as part of the defensive tackle rotation. Rookie Zach Minter was inactive.
Rookies Michael Ford and C.J. Wilson made their NFL debuts on special teams Sunday. Ford recovered a Devin Hester fumble on a first-quarter kickoff return.
News and notes: Hester averaged 24.5 yards on six kickoff returns and 8.5 yards on two punt returns. ... The Bears held Calvin Johnson to four receptions for 44 yards. ... Lance Briggs led the Bears with 13 tackles. ... The Bears drew their first pre-snap penalty of the season in the first half when rookie right tackle Jordan Mills was flagged for a false start.