Losing Alshon Jeffery this week to a four-game suspension is a big blow to the Bears, but it's not the first time they've had to learn how to play without him.
The Bears went a respectable 3-3 in the six games that Jeffery missed due to injuries last season, thanks in part to some of the same receivers they'll count on again this year to pick up the slack.
In three wins that Jeffery missed last year over the Chiefs, Raiders and Buccaneers, Marquess Wilson (12 catches for 165 yards), Eddie Royal (12-75), Joshua Bellamy (8-41) and Cameron Meredith (4-52) combined to catch 36 passes for 333 yards.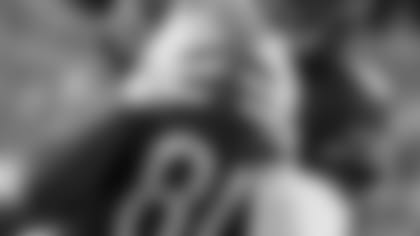 Bears wide receiver Cameron Meredith has 29 catches for 381 yards and two touchdowns this season.


"I think that group rallies well," quarterback Jay Cutler said Thursday. "When the news came down [about Jeffery's suspension], there was obviously some shock and feeling sorry for ourselves a little bit. But that room has got a fighter's mentality. The last two days, going out there and practicing with those guys, [there's been] a lot of energy.
"We're obviously going to miss Al. But we've been in this situation before. We know how to use those pieces. We know what those guys do well. Bottom line they're going to have to make some plays for us. There's going to be some times when they're going to be in some situations, one-on-ones, and they're going to have to make plays."
Cool customer: The Bears no doubt will also rely on rookie running back Jordan Howard, who has rushed for at least 100 yards in each of the last two games and four contests overall.
"Nothing really shakes that kid," Cutler said. "Practice, games, he's a cool customer. He knows exactly what we expect out of him. He usually has the answer to the question before you ask him. He's doing a heck of a job."
The Bears need their offensive line to perform like it did Halloween night when Howard rushed for 153 yards in a 20-10 win over the Vikings. Right guard Kyle Long missed that game and was placed on injured reserve this week with an ankle injury he suffered in last Sunday's loss to the Buccaneers.
"Jordan has done a good job," Loggains said. "He is a big back. He does carry his pads well. He's really good after contact. He's got good vision. But you still have to block for him. That's going to be key. [The Giants] are pretty solid up front. They've been pretty good against the run, but so had Minnesota. So it's more about us right now in my mind about executing."
Reducing turnovers: The Bears are placing an extra emphasis on ball security this week in practice after committing five turnovers in their disappointing loss to the Buccaneers.
"You always want to improve that," Cutler said. "That game's a prime example of moving in the pocket, being conscious of what's coming behind you and taking care of the ball."
Cutler accounted for four of the turnovers, with two interceptions—one of which was returned for a touchdown—and two lost fumbles—one of which resulted in a safety. But Loggains stressed that the quarterback wasn't solely to blame for the offense's lack of success.
"It's all of us," Loggains said. "We win and lose together. He was the same guy who we were praising against Minnesota. Obviously he didn't play as well as we'd have liked. I didn't coach as well as I would like to and the staff, no one. When you lose like that, no one plays well enough. No one does their job."
Injury update: Tackle Mike Adams returned to practice Thursday after sitting out Wednesday because he was sick. Other than that, the injury report was identical to the day before.
Bears who didn't practice again Thursday were offensive tackle Bobby Massie (concussion), nose tackle Eddie Goldman (ankle), defensive end Mitch Unrein (back) and cornerback Deiondre Hall (ankle).
Those who were limited included cornerbacks Tracy Porter (knee) and Bryce Callahan (hamstring), outside linebackers Pernell McPhee (knee) and Willie Young (ankle), receivers Royal (toe) and Wilson (foot) and guard Josh Sitton (ankle).