Right guard Kyle Long's absence from practice due to a viral infection is giving the Bears an opportunity to evaluate some top reserves against their No. 1 defense.
Eben Britton worked with the starting unit in Long's place during the first three practices Friday through Sunday before Brian de la Puente and Michael Ola split reps at right guard Monday.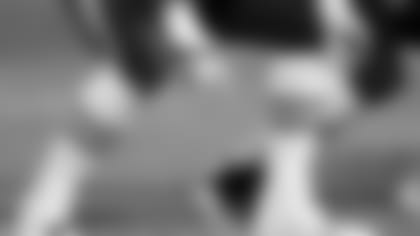 Versatile offensive lineman Eben Britton is in his second season with the Bears.
"We've got a lot of confidence in all those guys," said coach Marc Trestman. "It's a competition between Eben, Brian, Ola and all those guys that are certainly very capable guys that we're glad to have, so they're getting the work against the ones and that gets us better."
The Bears were extremely fortunate last season to start the same five offensive linemen in all 16 games. Britton contributed, however, as a sixth lineman and also replaced right tackle Jordan Mills after the rookie broke his foot early in the season finale against the Packers.
Britton joined the Bears last year after spending his first four NFL seasons with the Jaguars. The versatile lineman started 23 games at right tackle and seven at left guard for Jacksonville.
De la Puente signed with the Bears in May after spending the past three seasons with the Saints, starting all 16 games each of the last two years and 12 of 16 games played in 2011.
De la Puente entered the NFL with the 49ers in 2008 as an undrafted free agent out of California. He also spent time with the Chiefs (2008), Seahawks (2009), Panthers (2009), 49ers (again in 2010) and Seahawks (again in 2010) before joining the Saints in 2011.
Like Bears left tackle Jermon Bushrod, De la Puente excelled in New Orleans under the tutelage of Bears offensive coordinator Aaron Kromer, who served as Saints line coach from 2009-12.
The Bears claimed Ola off waivers from the Dolphins in May. He signed with Miami in January after spending two seasons in the Canadian Football League with the Montreal Alouettes. Trestman served in the same capacity with the Alouettes during Ola's first year with the team in 2012.
Long, meanwhile, was re-evaluated by a doctor Monday.
"We miss him," said quarterback Jay Cutler. "Obviously when you take a talent like that out of the offense, it's hard to replace him. But I thought that everyone who stepped in, all those guys have done a fabulous job of coming in there. It's a tight-knit group, that offensive line room, so those guys work well together."
While Long was voted to the Pro Bowl last season as a rookie, he's far from a finished product, especially after starting only five games at the Division I level at Oregon. Regardless of his experience, however, the Bears are hoping to get him back on the field as soon as possible.
"Any player no matter how long he played the game needs to practice and needs to work," Trestman said. "It doesn't matter who they are and what level that they play at.
"Certainly Kyle has missed time. There's nothing we can do about it. When he gets back here he'll have to get back into it and make up for some lost time. You could use Kyle or any player as an example. Everybody needs to work and get their reps and get themselves ready to play the season. So we hope we get him back."