The following is the ninth of nine position previews in advance of training camp.
The competition for the Bears' punt and kickoff return jobs should be among the most interesting battles this summer during training camp and the preseason.
Last year's primary punt returner, Eddie Royal, was released during the offseason. Cre'Von LeBlanc likely will contend for the position after averaging 8.6 yards on five returns last year.
Other veterans on the roster who possess experience as punt returners include Markus Wheaton, Rueben Randle, Kendall Wright, Daniel Braverman and Bryce Callahan.
Rookie fourth-round draft picks Eddie Jackson and Tarik Cohen also could challenge for the job.
Jackson didn't handle those chores at Alabama until his senior season last year, but he made the most of the opportunity. The 6-foot, 201-pounder averaged 23.0 yards on 11 returns with two touchdowns, dashing 85 yards against Mississippi and 79 yards versus Tennessee.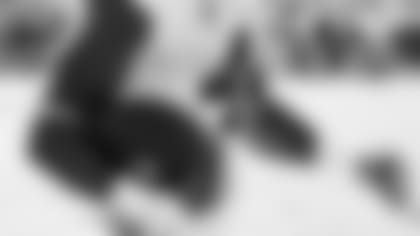 Eddie Jackson returned two punts for touchdowns last year at Alabama.


"Eddie's been productive," special-teams coordinator Jeff Rodgers said in May. "Last year he was over 20 yards a return. He got into the end zone twice against SEC teams. That's not a slow conference. He's a little bit inexperienced, but his production is off the charts."
Cohen returned punts and kickoffs in high school but was not used in that capacity at North Carolina A&T because the Aggies had a talented returner in Khris Gardin and coaches didn't want to risk getting their star running back injured.
Cohen did return one punt last season after Gardin had sustained an injury in an Oct. 15 game against Bethune-Cookman. The 5-6, 179-pounder dashed 67 yards for a touchdown, but the play was nullified by a penalty.
"He's fast," Rodgers said. "He's got verified speed. He's got quickness. Size-wise, he's short, but he's not thin. He's a little bit thicker. For a shorter guy, he's got big hands and that will help. Some guys who are shorter have smaller hands, smaller arms, things like that. So there's not as much surface space for a guy to catch. We like his athletic traits."
Deonte Thompson returns after leading the NFL in kickoff returns with 35 and ranking second with 810 yards, averaging 23.0 yards with a long return of 64 yards.
Free-agent acquisition Benny Cunningham joins the Bears after averaging 27.1 yards on 95 kickoff returns the past four seasons with the Rams. Last year the speedy 5-10, 210-pounder ranked third in the league with a 27.2-yard average on 22 kickoff returns.
Punter Pat O'Donnell, kicker Connor Barth and long-snapper Patrick Scales all return.
O'Donnell averaged 44.0 yards on 68 punts with 24 inside-the-20 and five touchbacks in 2016.
Barth made 18-of-23 field-goal attempts with a long of 49 yards last year in his first season with the Bears after replacing Robbie Gould, the franchise's all-time leading scorer. After missing three of his first seven tries, Barth rebounded to hit 14-of-16.
Barth will be challenged this summer by undrafted rookie Andy Phillips, a 28-year-old former world class skier who spent two years on a Mormon mission in Norway before enrolling at Utah.
A four-time All-Pac 12 selection and four-time Lou Groza Award semifinalist, Phillips made 84 percent of his field-goal attempts and set school records for field goals made (84), field goals attempted (100) and points scored (427).