The bye week evidently came at the perfect time for the Bears, who welcomed five injured starters back to practice Monday at Halas Hall.
Guards Kyle Long and Josh Sitton, receiver Eddie Royal, nose tackle Eddie Goldman and cornerback Bryce Callahan all returned to the field following the team's week off. The five players have combined to miss 13 games this season.
"It's a huge boost," said coach John Fox, who gave his players the entire week off following their Halloween night win over the Vikings. "Getting two Pro Bowl guards back is helpful. The receiver position gets a little deeper, as well as the punt returning. That makes us healthier in a lot of spots."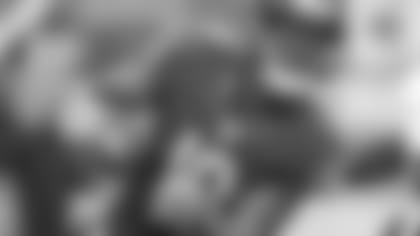 Wide receiver Eddie Royal returned to the practice field following the bye week on Monday.


There have been times this season that nearly 20 Bears players have been either unable to practice or limited due to injuries, an epidemic that has decimated both sides of the ball.
"I thought with our numbers, we were like a nine-man football team there for a while," said Long, who has been dealing with a triceps injury. "There weren't many people out there.
"[But] there were a lot of people out there [Monday], a lot of people who clearly took advantage of the break from a productive standpoint and did the things they needed to do to get their body right because the list was long in the training room prior to that break."
In the second half of a Week 7 loss to the Packers, the Bears were forced to play third-string quarterback Matt Barkley after Brian Hoyer suffered a broken arm. Hoyer was making his fifth straight start in place of Jay Cutler, who was sidelined with a right thumb injury.
"If you look at what's happened to us in the first half, just at the quarterback position, it's enough to cripple a lot of teams," Fox said. "Without the bad luck we had we'd have no luck. Hopefully that can turn for us moving forward. A lot of it's just being fortunate, so hopefully we're more fortunate in the second half than we were in the first half."
In addition to the five players who returned to practice Monday, others who already were back in action but should also benefit from the week off include Cutler, running back Jeremy Langford and outside linebackers Pernell McPhee and Leonard Floyd.
With a healthier team, the Bears are confident they can rebound from a disappointing 2-6 start.
"You look around and you see so many good players, it's like, 'Why not win out?'" said Royal, who missed the last two games with a toe injury. "You've got to win the first one, but we believe in each other so much that we know that we can turn this thing around.
"You want your best players out there. We had some injuries early on that kind of limited us, but that's no excuse. We've got a lot of great players and we're excited to go."
Royal was thrilled to rejoin his teammates on the practice field Monday.
"It was good," he said with a big smile. "It was a fun day just seeing everybody in the huddle and being out there again and running around. For me personally, just catching the ball, running some routes, it was a good day."
Long, meanwhile, hopes to stay off the injury report the rest of the year after sitting out his first game of the season Halloween night.
"I don't want to be on that list anymore," Long said. "I want to play. I want to be right next to Charles Leno, slapping him five when Jordan Howard runs for 70 yards on a play, and there's no reason I can't be and shouldn't be out there."
Long is convinced that the Bears will improve with more able bodies available, saying: "Things tend to get better over time. Guys are getting healthier. We've beaten two teams and we're looking to extend that number. That's what the second eight [games] are for."