As Bears teammates from 1987-92, Panthers head coach Ron Rivera and 49ers counterpart Jim Harbaugh made four playoff appearances, including three as division champions.
On Sunday, Rivera and Harbaugh will stand across the field from each other at Bank of America Stadium in Charlotte, striving to guide their respective teams to the NFC Championship Game.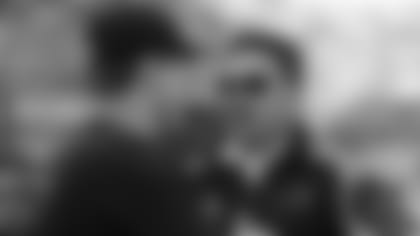 Jim Harbaugh and Ron Rivera shake hands after their Week 9 game this season in San Francisco.
"I have a lot of respect for what Jim's done [and] the way he's done it," Rivera told USA Today in advance of their division playoff game. "A lot starts with who we played for in coach [Mike] Ditka. You wanted to be in the foxhole with Jim Harbaugh. He hates to lose."
Both coaches are in their third seasons with their teams. Rivera guided the Panthers (12-4) to the NFC South title by winning 11 of their final 12 games following a 1-3 start. Harbaugh led the 49ers (12-4) to a wildcard berth and a playoff win over the Packers last weekend in Green Bay.
The two will meet for the second time as head coaches; the Panthers beat the 49ers 10-9 earlier this season at Candlestick Park in San Francisco.
Rivera spent his entire nine-year NFL playing career with the Bears after arriving in 1984 as a second-round pick from California. He served as a backup on the 1985 Super Bowl team and didn't become a regular starter until 1988, a role he held for three seasons.
Harbaugh arrived in 1987 as a first-round pick from Michigan. He compiled a 35-30 record as a starter over six seasons and ranks second on the Bears' all-time list with 1,023 completions and 1,759 attempts, and third with 11,567 yards.
Rivera often talks to Panthers players about being part of an '85 Bears defense that is widely considered one of the best in NFL history.
"A lot of the guys will ask me questions about it; what it was like, how things were," Rivera said. "I talk about how close we were as a team, how we took ownership, how Ditka wanted us to take ownership. He wanted us to step up and lead ourselves.
"We talk about going out to dinner as groups of players, staying after and watching a little bit more tape together and getting in early and doing the extra things. I do talk about some of the reunion things that we've done; what it's like to be able to come back later on and talk about what we're doing now and tell some lies about what we did."
Rivera sees some similarities between the '85 Bears defense and the Panthers unit that ranked second in the NFL this season in total yards and rushing yards allowed.
"We're becoming a good defense," Rivera said. "Shoot, I'd love to make sure that we can emulate that team at some point. That would be awesome."
Rivera also revealed this week that his players often ask about former teammate Walter Payton, a Hall of Fame running back who played 13 seasons with the Bears from 1975-87.
"I talk about how he was the ultimate teammate," Rivera said. "He treated us all the same. He treated your family very well. Once he got to know who your folks were, your wife, your kids, he was unbelievable.
"I talk about how dedicated he was to the game, what it meant to him to be part of winning the Super Bowl. I know that he didn't get a chance to score the touchdown, which was something that was disappointing for him. But I do know that being part of the team was real important to him."