It's impossible to replace Bears star middle linebacker Brian Urlacher, but veterans Nick Roach and Geno Hayes are at least helping to fill the void while the eight-time Pro Bowler is sidelined.
Roach has worked at middle linebacker with Hayes stepping in at the strongside position since knee soreness put Urlacher on the shelf after four training camp practices. Urlacher had arthroscopic surgery Tuesday and still hopes to start the regular season opener Sept. 9 against the Colts.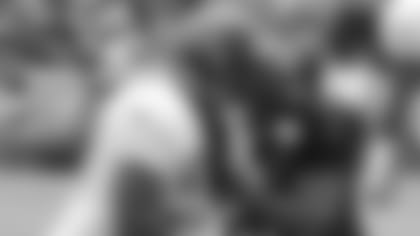 Nick Roach has been working as the Bears' starting middle linebacker in training camp.
"Nick Roach has done a very good job," said defensive coordinator Rod Marinelli. "We've always believed he's been an excellent linebacker. He's got good work habits and really done a nice job. Geno's had a chance to get some extra work, so he's real solid going into another week."

Last season Roach started 15 of 16 games played at strongside linebacker, recording 61 tackles and six tackles-for-loss. In 2009, he started three contests at middle linebacker after Urlacher had suffered a season-ending wrist injury in a Week 1 loss in Green Bay.

"I never worry about Nick out there," Urlacher said. "He does a good job. Everyone says he's more vocal now, so that's good. He knows the defense. He's an athletic guy. Our team trusts him."

Roach's past experience lining up at middle linebacker in the Bears defense has helped him make a seamless move this summer.

"He played it a couple years ago and played it extremely well," Marinelli said. "There's not a transition because he's great in space. He understands, he's smart and he's a good tackler. He's a very good linebacker. You could put him at all three spots and he's going to be very good."

"Nick practiced every week last year as the No. 2 'Mike' linebacker in base and nickel, so he's gotten a lot of reps and he's actually started at base and nickel 'Mike' in the past here, so that's a big plus," said linebackers coach Bob Babich. "Nick is very comfortable and he's done a great job with the checks and the adjustments and that type of stuff. We think Nick can play winning football."

Hayes signed a one-year contract with the Bears in April after spending his first four NFL seasons playing in a similar defensive scheme with the Tampa Bay Buccaneers.

"He's come from the system and he understands it," Marinelli said. "In coverage he can really break on the ball. He's a good coverage guy. He's very athletic, smart and the guy hits. He fits right in."

Hayes appeared in 56 career games with 42 starts for the Buccaneers, recording 334 tackles, 36 tackles-for-loss, seven sacks, four interceptions, 16 pass breakups, four forced fumbles and one fumble recovery.

After playing in nine games primarily on special teams as a rookie in 2008, Hayes became Tampa Bay's starting weakside linebacker in 2009, replacing 11-time Pro Bowler Derrick Brooks. Last season Hayes started 13 of 16 games played, compiing 86 tackles, seven tackles-for-loss, one interception and two forced fumbles.[ ](http://www.phoenix.edu/campus-locations/il.html?utmsource=Story&utmmedium=instory&utmcampaign=300x100)
"Geno has played a lot of football before he got here," said coach Lovie Smith. "Coming in you wanted to get good quality backups. A good quality backup is a guy that's played and started in the league, so we're pleased with what he's done."
"Geno has done a great job," Babich said. "This is great for him to get the reps with [the No. 1 defense] and to fit in. He's still got a little bit to go, but we've been pleased with what Geno has done. He shows athleticism and play-making ability, and he has been in the system before so he's picked it up pretty good."