The shortest player on the Bears roster actually uses his lack of height to his advantage. But Jacquizz Rodgers knows that being a 5-foot-6 running back generally isn't considered a positive.
"The game of football is all about height, weight and speed, so there are always going to be critics about that," Rodgers said. "I've always known I've had to outwork everybody else to get to where I'm at."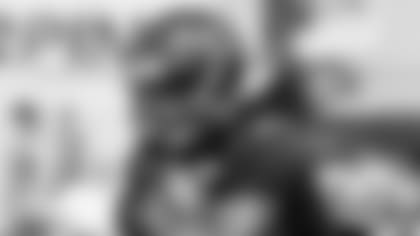 Jacquizz Rodgers rushed for 1,116 yards in 65 games with Atlanta before joining the Bears.


Where Rodgers is at is second on the Bears' depth chart behind Jeremy Langford and ahead of Ka'Deem Carey and rookie Jordan Howard. The Bears like the toughness and playmaking ability that Rodgers brings on offense and special teams as well as his leadership off the field.
Those attributes were major factors in the decision to re-sign Rodgers in March despite the fact that he missed the final 11 games in his first season with the Bears last year with a broken arm. Before suffering the injury in a Week 5 win over the Chiefs, Rodgers rushed for 41 yards on 14 carries, caught one pass for 10 yards and recorded three special-teams tackles.
"Quizz was a big part of what we were doing early last year and then he got injured," said coach John Fox. "He's a real pro's pro as far as how he approaches the game. He's a leader in that running back room. He's a big contributor on fourth down as well as a guy who can go in and tote the rock. We didn't get a lot of looks at that last year, (but) I've liked what I've seen this year."
Rodgers originally signed with the Bears last year after spending his first four NFL seasons with the Falcons. In 65 games with Atlanta, he rushed for 1,116 yards and five TDs on 305 carries, caught 155 passes for 1,104 yards and five touchdowns and averaged 24.0 yards on 49 kickoff returns.
Rodgers uses his lack of height to gain leverage on tacklers. Though short in stature, he's long on experience—and he enjoys providing guidance to his young teammates, who look up to him despite the fact that he only stands 5-6.
"It's the first time I've been the oldest guy in the group," Rodgers said. "For me, it's just giving the guys knowledge and not letting them make some of the same mistakes I made.
"Like with Jeremy right now, he's got a chance to be the starter, so take advantage of that. Don't take that for granted because you know how this league is. And he's done a great job with that. He's come in and he's learned. You can see the growth in his game."
Rodgers hopes to continue to make the most of his opportunities as well. With Langford and Carey both nursing injuries, the sixth-year pro figures to get plenty of reps in Saturday's preseason game against the Kansas City Chiefs at Soldier Field.
"I'm just trying to get better every day," Rodgers said. "I'm still not satisfied because I haven't had a game that's up to my expectations. So I've got to fix that on the practice field and treat [every practice] as a mini game and just continue to work and try to make plays when my number's called."