Bears special-teams coordinator Jeff Rodgers is confident that Robbie Gould will work himself out of the rare slump the veteran kicker is mired in.
After making his first 17 field-goal attempts this year, Gould has missed six of 15 tries. It's the worst stretch of his 11-year career with the Bears and marks the first time he's missed as many as six in an entire season since he went 21-of-27 as a rookie in 2005.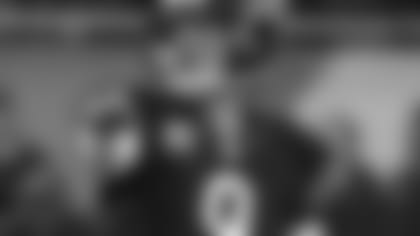 Bears special-teams coordinator Jeff Rodgers is confident that Robbie Gould will work himself out of the rare slump.


Normally automatic in the clutch, Gould missed two kicks in an overtime loss to the 49ers Dec. 6, including a 36-yarder on the final play of regulation that would have given the Bears a 23-20 win. A week later in last Sunday's 24-21 loss to the Redskins, he missed a 50-yarder with 1:40 remaining that would have tied the score.
"Robbie's a pro," Rodgers said. "He's going to look at the tape and see kind of what he thinks he needs to work on. We may have a couple things I'm asking: 'Hey, is there anything to this?' [But] Robbie is such a stud when it comes to being a student of the game. He knows himself very well. He knows his tape. He knows his history. He knows sometimes the things that he's got to go back to fundamentally. He studies other kickers.
"There's very few things that he could do more—and I wouldn't even know what they were—than what he's already done. His ball-striking was good. His kickoffs were probably as good as he's had in terms of what we're asking him to do; place the ball, hang time, all those things. So we're hoping that he works himself out of it and we're successful the next time out."
Gould told reporters that he rushed through his kicks against the 49ers, but he was pleased with his tempo last week in practice as well as versus the Redskins.
"Robbie worked his butt off last week and he was really good in practice," Rodgers said. "I thought he was good in pre-game. I thought the other three kicks that he had in the game were good. He missed the last one and he's disappointed in it."
The kicker the Bears will face Sunday in Minnesota, the Vikings' Blair Walsh, empathizes with his Chicago counterpart.
"You feel bad for him," Walsh told the St. Paul Pioneer-Press Newspaper. "I know Robbie and he's a good guy and a very good kicker, and he has been for years for them.
"I think the perception in the league right now is you're expected to make everything—every pressure kick, and every kick over 50 (yards). So, any time you don't make it, it's way more magnified and people look at it and say, 'Hey, what's wrong with him?' But in reality, there's probably nothing wrong with him."
"Would it surprise me if he went out and had a great game? No. Do I want him to have it against us? No."