Nearly two months after the Bears knocked Aaron Rodgers out of action with a broken collarbone, the Packers quarterback will return to start Sunday's winner-take-all showdown in Chicago.
Green Bay coach Mike McCarthy made the announcement Thursday at Lambeau Field, indicating that Rodgers is ready to play and has thrown the ball well in practice the last three weeks.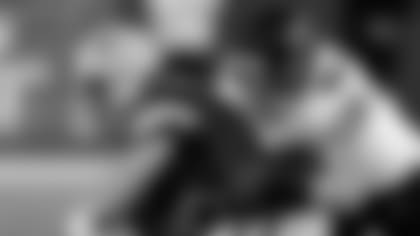 Aaron Rodgers will be back in the starting lineup for the first time since a Week 9 loss to the Bears.
Rodgers was injured Nov. 4 on the first possession of a Monday night loss to the Bears in Green Bay when he was sacked by defensive end Shea McClellin. The Packers went 2-5-1 without him and will play the Bears for the NFC North championship Sunday at Soldier Field.   
"I'm excited to be back with the team," Rodgers said Thursday. "This is a fun day for me. But I think the focus needs to be on this game and the opportunity that we have to win a division, which is our first goal every year. We're in it. We have a chance against our rivals and what better way than to go down there and get some revenge and host a home playoff game."
Rodgers is 9-3 all-time against the Bears, including the Week 9 loss this season and a 21-14 victory in the 2010 NFC Championship Game in Chicago. In those 12 starts he has completed 245 of 361 passes for 2,757 yards with 19 touchdowns, eight interceptions and a 98.8 passer rating.
This season Rodgers had connected on 66.9 percent of his passes for 2,218 yards with 15 TDs, four interceptions and a 108.0 passer rating that ranks fourth in the NFL. Green Bay replacements Matt Flynn, Scott Tolzien and Seneca Wallace combined for a 78.0 rating.
"It's a big difference," said Bears linebacker Jon Bostic. "He's a guy that's one of the best at what he does. Not only is he accurate with the football, he's a good decision-maker and he can move around the pocket as well. He presents a tough challenge, so we've got to make sure the whole defense is playing together and everybody is in their right gaps."
McCarthy's announcement Thursday did not catch the Bears off guard.
"It didn't surprise us," said coach Marc Trestman. "If he can play, he would. We prepared for that and that's no disrespect to the job Matt Flynn has done. They put up [68] points on the board the last two weeks alone, but if Aaron could play we expected him to play and we're prepared for that.
"We know that Mike was going to get his team ready to play anyway with whoever was available. He's proven he can do that year-in and year-out and with Aaron back, they have a feeling they'll be at their best. And we're ready for that, excited about it."
Even though Rodgers has missed seven games, the Bears don't expect him to be rusty Sunday.
"I don't anticipate him being rusty at all," said cornerback Tim Jennings. "He's still been out there with the team taking reps. He's been doing this for a long time. He's been making plays. He can find all the guys on the field, put them in the right position and make all the tough throws."
Bears quarterback Jay Cutler, who will make his third straight start after missing four consecutive games with a high ankle sprain, anticipates that Rodgers will be at his best Sunday.
"He's been in the same offense for a long time and he's been practicing the last couple weeks, so I expect Aaron to come back and play pretty sharply," Cutler said. "He's been doing this for a long time with Mike, so he's going to be pretty familiar with what's going on out there. I wouldn't expect much of a drop-off from him by any means."