After being hampered by injuries throughout most of his first season with the Bears, veteran safety Antrel Rolle is determined to return better than ever in 2016.
Rolle was limited to just seven games due to ankle and knee injuries. In his previous nine NFL seasons with the Arizona Cardinals and New York Giants, the University of Miami product missed just one game.
"When it's time for me to start training, I'll have the same approach, just probably go a little harder," Rolle said. "I've had a lot of time to rest obviously. My body doesn't need the rest as it would normally after a season, so I'm going to push myself a little bit harder.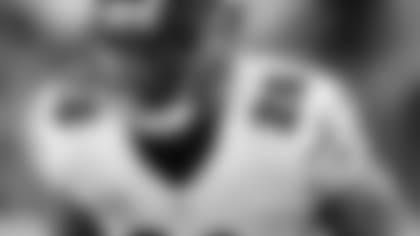 Antrel Rolle was limited to just seven games due to ankle and knee injuries in 2015.


"I have a lot to prove, a lot to prove to myself, a lot to prove to the players here, the guys here in the organization, and I take that with a badge of honor. I want to do everything I can to show them that there's nothing lost. If anything, there's going to be a gain and I'll come back and be a playmaker."
Rolle hurt his ankle in a Week 4 win over the Oakland Raiders and missed the next two games. He returned to make three straight starts before suffering a knee injury Nov. 20 in practice that forced him to sit out the final seven games.
"It was extremely frustrating," Rolle said. "With the high ankle sprain and then just trying to bounce back as fast as I did kind of put stress on the knee and it was just an unfortunate situation. It was extremely frustrating, but I kept a positive mindset.
"The guys here helped me out a lot. My family helped me deal with it a whole lot. And just being around the guys, it helped me embrace it each and every day."
Having played in all 16 games in eight of 10 previous NFL seasons, Rolle had a difficult time watching his teammates from the sideline.
"Not being out there with the guys was the biggest thing and going into battle with those guys," Rolle said. "I definitely felt like I could have made a difference some way, somehow. This is the game I love to play, that I have a huge passion for.
"I felt like we were starting to gel a lot as a defense with myself being back there and just for the most part just being involved. You kind of feel like the lost soul. Even though I was always involved, constantly involved, you still feel like the lost soul. That was tough to deal with a lot of times."
Having turned 33 in December, Rolle knows that some will doubt whether he will be able to revert to form. The 6-foot, 206-pounder has 26 career interceptions, including six in 2013 and three in 2014 with the Giants.
"When you get up in age, when there's an injury the first people want to question is your age," Rolle said. "There are a lot of 21-, 22-, 25-year-old guys dealing with the same injuries, but it comes with the territory and I understand that.
"So I have to prove myself. I want to go out there and be the ballhawk that I am, go out there and make plays when opportunity presents itself and just go out there and play ball. Give the team everything I've got."
While the Bears finished 6-10 in 2015, Rolle is confident that general manager Ryan Pace and coach John Fox have the team headed in the right direction.
"Obviously we didn't do what we wanted to do, but I still feel like there was a lot of growth that happened this year amongst players and coaches," Rolle said. "I felt like we established somewhat of an identity. There's still a long ways to go with that, but I think we at least have the foundation down.
"We understand what it's going to take in order to improve around here, and the coaches, general manager, players, I think we're all on the same page when it comes to that. And I think we're willing to do whatever it takes to have this a winning organization again."