As they prepare for Monday night's game in Dallas, the Bears know they'll need a relentless pass rush against Cowboys quarterback Tony Romo, who excels at keeping plays alive with his feet.
"It's a big challenge because he's as mobile as any, and not to run but to throw the ball," said coach Lovie Smith. "We should know what he's going to do, but it seems like he finds a way to get out of a lot of tough situations. That will be a challenge for us to keep him penned in."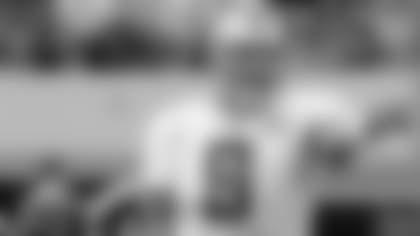 Lance Briggs (55) and the Bears beat Tony Romo and the Cowboys 27-20 in 2010.
In three games this season, Romo has completed 64.8 percent of his passes for 841 yards with four touchdowns, three interceptions and an 89.3 passer rating. He has rushed for 12 yards on 11 attempts and been sacked seven times.

"He scrambles to throw," said defensive coordinator Rod Marinelli. "You've just got to control the pocket as much as anything. You've got to keep him inside. You've got to make him work inside of a pocket because once he's out of there, he special outside of it. He's really good.

"He's a playmaker. He has instincts, awareness. He's got a great feel for avoiding the rush and he moves around to create lanes down the field to throw."

The Bears will counter with an athletic defensive line that has accounted for 13 of the team's NFL-high 14 sacks this season. The line is led by Henry Melton (3 sacks), Julius Peppers (21/2), Israel Idonije (21/2), Shea McClellin (2), Corey Wootton (11/2), Amobi Okoye (1) and Stephen Paea (1/2).

"All the guys up front can run," Marinelli said. "Where football's at today, you have playmakers at quarterback. The guy from Washington (Robert Griffin III), [Michael] Vick, all those guys, they're athletic guys. So you've got to match that with athletic rushers."

Division race: The Bears (2-1) will enter Monday night's game in second place in the NFC North behind the surprising Vikings (3-1). On Sunday, Minnesota beat the Lions (1-3) in Detroit 20-13, while the Packers (2-2) defeated the New Orleans Saints 28-27 in Green Bay.

Working together: While the Bears' front four has received much of the credit for the defense's excellent performance so far this season, the linemen haven't done it by themselves.

"The coverage has been excellent," Marinelli said. "The coverage with corners and safeties and our 'backers has been very good. It all works together, rush and cover. We talk about that every day.

"There are times you don't get sacks, but you pump the ball out fast and the guys pick the ball. It all works to try to win the game. Guys working together is the biggest part."

Home cooking: The home team has won each of the Bears' first three games this season, a trend they hope to snap Monday night in Dallas. In their first road contest this season, Jay Cutler threw four interceptions and was sacked seven times in a 23-10 loss to the Packers at Lambeau Field.

"It's just tough in the NFL to win on the road," said offensive coordinator Mike Tice. "You look around the league and it's so difficult to win on the road. We have to be poised and we have to handle the crowd noise. We have a checklist of things we have to do better."

In Lovie Smith's nine seasons as coach, the Bears are 42-24 at home and 31-34 on the road.

In their last meeting with the Cowboys on Sept. 19, 2010 in Dallas, Cutler completed 21 of 29 passes for 277 yards with three touchdowns, no interceptions and a 136.7 passer rating-his second highest with the Bears-in a 27-20 victory.

"That was a good win, but that was a couple years ago," said center Roberto Garza. "They have a lot of great players on [defense], so we have to get ready for a big challenge on Monday night in a hostile environment. We took a step last week [in a 23-6 win over the Rams] and we have to continue to grow as an offensive line and grow as an offense."