Rookie offensive linemen Kyle Long and Jordan Mills drew rave reviews from Bears teammates and coaches for their performance in Thursday night's preseason win over the Chargers.
Starting next to each other on the right side of the line after joining the No. 1 offense earlier in the week in practice, Long and Mills helped open holes for Matt Forte and protect Jay Cutler.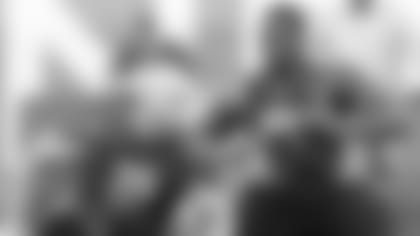 Bears rookies Kyle Long (left) and Jordan Mills first met at the NFL Scouting Combine in February.
"They did well," Cutler said. "They were fired up and excited to be out there. I don't think they were nervous by any means. They run blocked well and their pass protection was just as good.
"We'll keep going with those guys and I know [Aaron] Kromer will coach them up. I'm sure there are corrections to be made, but I was at ease having them in, which is nice."
With Long at right guard and Mills at right tackle, the Bears scored two touchdowns and two field goals on their first six possessions to take a 20-0 lead en route to a 33-28 victory at Soldier Field.
"I thought we got off to a really good start there offensively," Long said. "It was good to get out there and score some points. It was good to get out of here with a win. Obviously the job is made a lot easier with guys like [Roberto] Garza, [Matt] Slauson and [Jermon] Bushrod out there to be able to walk you through certain situations."
While most Bears starters were removed from the game by the middle of the second quarter, Long and Mills played into the second half before calling it a night.
"As rookies you need as many snaps as you can get," Long said. "I know it's beneficial to me and I'm sure Jordan will echo the same thing. You get out there and you get as many snaps as you can. You get to be put in as many different scenarios and situations as you can be so you can be prepared when the season comes around."
Long and Mills both threw key blocks on 3-yard touchdown runs by Matt Forte in the first quarter and Michael Bush in the third. The two rookies, who became friends at the NFL Combine in February, appear to feed off and motivate each other.
"Having Jordan next to me helps out a lot," Long said. "We have trust between one another. We're roommates. We're good friends. We had a tremendous opportunity and experience [Thursday]."
Coach Marc Trestman felt that Long and Mills performed well, but was hesitant to heap too much praise on the first-time starters before studying tape of the game.
"I can tell you from practice, and I've said it for the past week, [Long] is not making incremental increases in his play," Trestman said. "He is really ascending a little bit quicker than that.
"We aren't going to get ahead of ourselves. It's the first time he's played [with the starting unit], and he's played very little in his life. So we will look at the tape and do a better job evaluating how he played in his first game. I was just checking in with Aaron on the way off [the field] and he thought he had a pretty good first-time out."
Like Long, Mills is expected to continue working with the starting unit.
"I felt as I watched the line of scrimmage and the run game, we were moving the line of scrimmage, we weren't getting pushed back," Trestman said. "For the few throws that we had, I felt the two of them played very well from my perspective. I could be wrong; I'll have a better look at it [Friday].
"But Jordan Mills has deserved an opportunity to work. We'll evaluate it as I said last week. We haven't made any decisions on the [starting] five. This was the week to move people around with going into the third game next week. We did that and I will evaluate and see where we are."