Sixth-round draft pick Pat O'Donnell made an impressive debut at Bears rookie minicamp Friday, routinely booming punts off the ceiling of the Walter Payton Center.
The 6-4, 220-pounder, who was the only punter selected in the draft, set a school record at Miami last season with a 47.1-yard gross average. O'Donnell spent the previous four years at Cincinnati, redshirting after suffering an injury as a true freshman in 2009.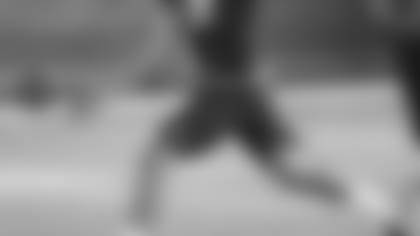 Sixth-round pick Pat O'Donnell punts Friday during Bears rookie minicamp in the Walter Payton Center.
"It's the first day I've seen him in person," coach Marc Trestman said Friday. "Pat's obviously got a very strong leg. He's very athletic. You see his size out there. He's a big man.
"If you have a good punter, that's one play that can mean a lot; it changes field position. When you can directionally punt at this level and do it consistently and do it with height as well as length, that creates an advantage field-position-wise. We know that.
"[Friday] was the first day. We've got a long way to go yet. We've got a competition still and I think we should leave it at that. It's still a competition."
Passing grade: Sixth-round quarterback David Fales also performed well at times in his first pro practice.
"I thought he spit out the verbiage very well; thought he looked the part," Trestman said. "He didn't seem out of place at all. He was very quietly confident back there working, and [quarterbacks coach] Matt [Cavanaugh] doing a good job of just coaching him up.
"He went all the way through it, from the meetings and obviously individual and team period. I thought he handled himself, as the other quarterbacks did, very well."
Fales started all 25 games at San Jose State the past two seasons, passing for 4,193 yards and 33 touchdowns in 2012 and 4,189 yards and 33 TDs in 2013.
Defensive changes: Reiterating what he told ChicagoBears.com, defensive coordinator Mel Tucker said during a press conference Friday that the defensive scheme would sport new wrinkles in 2014.
"There are some significant changes in terms of the techniques that we're going to play; how we're going to fit the run, some of our alignments," Tucker said. "We'll have some alternative fronts that we'll play.
"I'm not sure how much of a difference you'll see during the OTAs and things like that because we're really going to work to lay the foundation on our base principles and techniques, which will allow us to do pretty much anything we want to do down the road.
"There are some changes. Some of the stuff that we have is going to be based upon the personnel. A lot of the packages that you have, you want to build them around the guys that you have and what they do well. We have it all on paper and we just have to wait and see which ones we're going to use based on what we see guys do on the field."
Cool cat: Fourth-round running back Ka'Deem Carey, an Arizona native, said that he was "dummy-shocked" to see snow flurries when he woke up Friday morning.
"Nobody told me it was going to be snowing out there," Carey said with a laugh.
Running back Jordan Lynch, who grew up in Chicago, enjoyed watching Carey deal with the weather.
"I'm rooming with Ka'Deem Carey and he comes from Arizona, where it's in the 80s," Lynch said. "I don't think he ever saw snow before. He had two sweatshirts on coming out and it wasn't that bad [Friday] morning."